Dear JSL,
Last Friday I was a few minutes late picking you up from school. When I told you it was because the roofer was here fixing the gutter, you wanted to check out the work he did. You also complained that you did not get to see T. Then as we walked over to the side of the house, something caught my eye. I stopped and then you saw what I did. You moved backward and did not want to get any closer. Of course, I pulled out my camera and had to get a shot from a distance. This is the critter that we saw: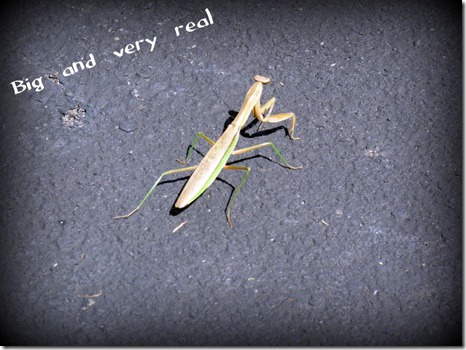 You are not really into bugs. Check that, you are not a fan of real bugs. If you see one in the house you immediately move from the scene. I think this is trauma from the giant beetle that came out of a toy you were using earlier this summer. I worry about the centipedes and how you will react when you see them. I guess we will know soon enough.
The funny thing is you do like some bugs. One of your favorite shirts in recent days is your green one with bugs all over it. In addition to this, since we saw the giant praying mantis on the neighbor's driveway you have  been playing with your giant bugs that Aunt A and Uncle J got you. There is definitely a new favorite among the crew. Here you are bringing "him" to visit my computer.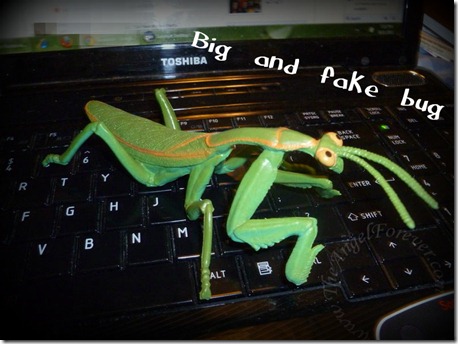 I have a feeling that your fascination with bugs will probably change over the years to come. For now, I will enjoy the fact that the only bugs that you bring me are NOT the kind that were ever alive.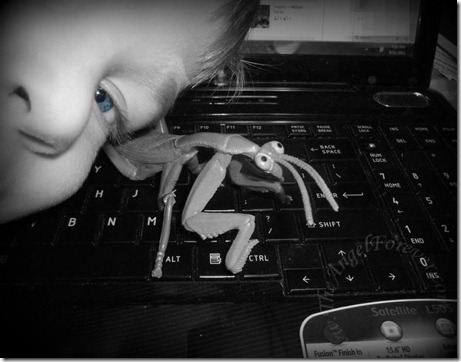 Love,
Mommy
__________________
If you want to participate in Dear Kid Saturday, head on over to Cutest Kid Ever by clicking on the button below.