Have you ever had challah? You may not have had it plain, but chances are that you may have been served challah french toast. Here's a slice of challah that we had while on the road the other day.
Each Friday at nursery school, JSL and his classmates celebrate Shabbat. We bring in money to donate to others, food for the food pantry, and they have a Shabbat table. Last week, JSL's new class made a new tablecloth to place with each of their handprints and names for this year. In addition to this, a girl and boy are selected to be the Ima (mother) and Abba (father) to help do the Shabbat duties. On the first Friday, JSL was Abba and so thrilled to do this special task. This is what the table looked like last year:
Shabbat is special and thanks to this, we have a book that JSL received last year from Kar Ben Publishing.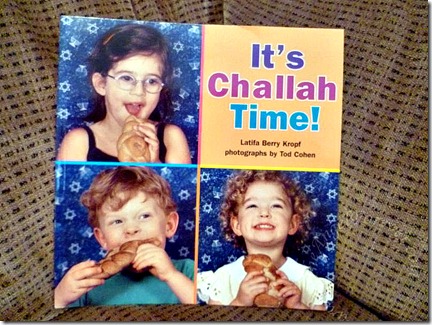 It's Challah Time! uses photos of preschool aged children in a classroom setting. Together, the children (with adult supervision) are making challah for their Shabbat celebration. The easy to follow steps and large clear photos take you along the journey of making a delicious challah of your own. As a child, my favorite part of making challah was getting the chance to braid the dough before it was baked in the oven.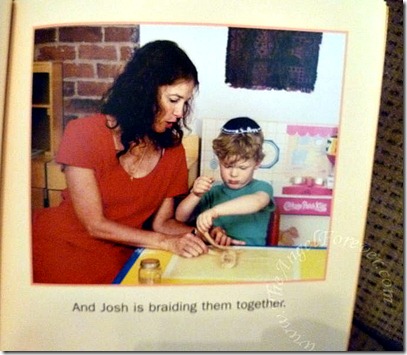 The book also shows the kids participating in traditional Shabbat activities. They read stories together, sing with the Cantor, and set the Shabbat table to get ready for their weekly celebration. Then, they show the challah cover over their special bread, candles, and grape juice. When it is time to light the candles, all of the kids participate together and share the experience.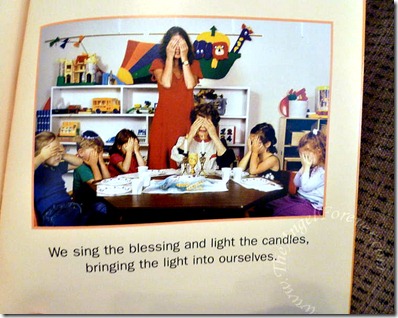 Celebrating Shabbat is important to keeping our Jewish traditions alive. It's Challah Time! does a fantastic time of keeping this alive with kids and also shares a recipe at the end so you can make challah making memories at home with your children. I know this is a book that JSL and NHL will both enjoy and remember thanks to the fantastic preschool times they have had in their own classrooms and at home with our family.
Of course, since this is Tuesday Tales, I must ask the usual question. What have you read recently? Please be sure to link up to your Book Posts, and/or leave a comment below. Include something you read on your own, with a child or someone else. Tuesday Tales are all about spreading the love for books.

Disclosure: I received this book complimentary of Kar-Ben Publishing in order to facilitate this review. No other compensation was given. The opinions expressed in the review are my own.