November is here and suddenly a slight sinking feeling goes into my stomach. Yes, the thought of creating a holiday card to send to family and friends hits. Since we celebrate Chanukah, we do not send Christmas Cards. Rather than do some for each holiday, we pick out New Year Cards. Now that we have kids, we like to do a card with photos. Thanks to a Global Influence Campaign, I am now more familiar with Shutterfly and their large selection of holiday cards and other photo gifts.
We used to sit and try to come up with that one perfect photo of the boys or all of us. Reality check. That just does not work. Instead, it usually results in a comedy of errors of funny shots like this one from Halloween: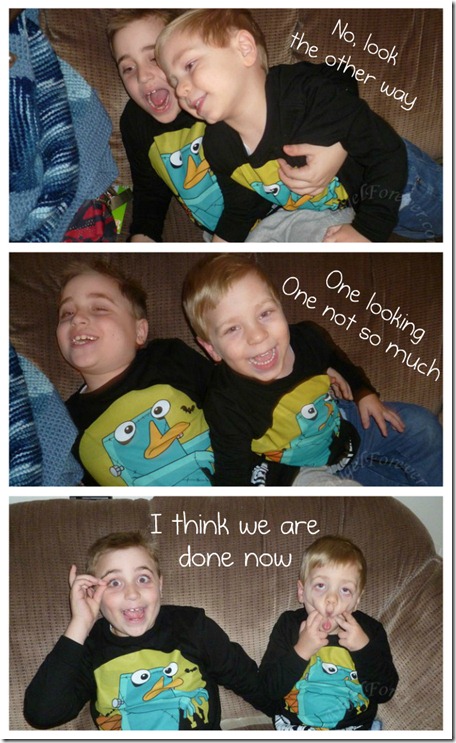 Now, there are holiday cards that allow us to pick out multiple photos to represent the fun and exciting things that have happened over the past year. So we can skip these hijinks and use one with the boys in their Darth Vader and Jedi Tigger costumes. Of course, I also want to include a group family shot. These are rare since TechyDad or I are almost always behind the camera. Lucky for us, one of my favorite photos from this year is with all of us. We are in the United Kingdom at Epcot visiting with Tigger and Pooh. It may not be the best, but it is my favorite. It shows us in our happy place, together, and having fun.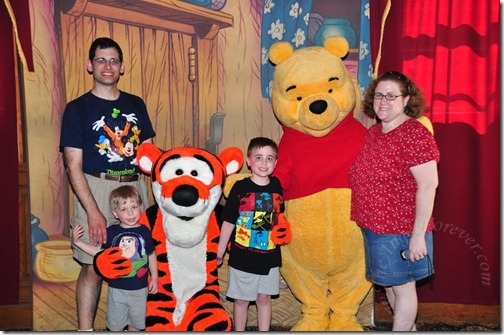 I know that over the next few weeks, I will be using the tools, resources, and ideas on Shutterfly's Family Photo Day website. They will help me to make our perfect holiday card to send to family and friends to welcome in 2012. In addition to this, I would love to plan a Family Photo Day with other local friends. The idea behind this is to gather together, be spontaneous, fun, silly, and capture moments for each other that may be tricky to do for your own family. I love the idea and how it is explained in this video:
So what do you think? Could you see the benefits of a Family Photo Day with a larger group of family? I think it would take the pressure off and make something that can often be stressful more fun and creative.

Disclosure: I wrote this post as part of a Global Influence campaign for Shutterfly. By sharing this information with my readers, I will also receive 50 free cards to thank me for my participation. No other compensation has been given and all opinions are mine.