Confession time. I have one child that is a fantastic eater. NHL is eight and has almost always been good about eating fruits, vegetables, and other nutritious items. Sure, there was a small point in his toddler life that he refused a few things here and there. When he was little, he would order broccoli and mushrooms on a pizza as toppings. Yes, he would request broccoli as a side dish.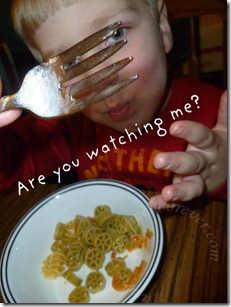 Enter JSL, a four year old picky eater at best. Daily battles over what he can eat and what he will not eat happen. Where NHL will give things a "no thank you" try and usually like it, JSL will go on a hunger strike. His preferences will change from day to day, so TechyDad and I never know what preferences we will face. Chicken nuggets that he devours one day, may be tossed to the side three days later. We simply never know. We are able to get him to eat other protein sources. Nutritional drink supplements, cheese, PB, and sometimes Greek yogurt if we stand on our head.
Where we get to a stumbling block are fruits and veggies. JSL will not eat grapes, strawberries, or most other items. While cherry picking, he ate some in the orchard, but declared they were gross afterward. Apples are hit and miss, as are bananas. About the only way he loves fruits are in a smoothie. We can do that from time to time, but they are not as easy to do on the fly.
Vegetables rarely pass by JSL's mouth in a whole or recognizable form. SERIOUSLY! He used to eat cucumbers and possibly some other items if we could bribe him. Not any more. We have attempted those recipes where you hide items in them, but they are quite time consuming thanks to making vegetable purees. Oh and most of the time he would not touch them anyway.
While out shopping the other day, I needed some pasta. I usually purchase whole grain pasta since it is the healthier option. Something caught NHL's eye. He saw the colored vegetable pasta from Barilla. I told him to pick one out. He selected the Piccolini that has zucchini and spinach.

The other night, we made that with the Ronzoni Garden Delight we already had in the house. Both have a full serving of vegetables in each portion. What did the picky eater think? That photo above is JSL devouring the pasta. It may not be a solution, but it is a good alternative to have when we are going to serve the kids pasta.
So my question to you this week:
What food items do you battle with your children over or did you refuse to eat when you were a child?


____________________________________________________________________________
Thanks to Kailani at An Island Life for starting this fun for Friday. Please be sure to head over to her blog to say hello and sign the linky there if you are participating.
Aloha #176