Wednesday came and went and seems like a blur to me. I was hardly home most of the day. Three hours in the morning were spent setting up for the big family party at JSL's nursery school. The front of the room was festive. There was a podium with a banner, a menorah to light, and presents for the teachers. Each table had balloons, Chanukah glitter, and napkins.
Then, in the back of the room, there was a buffet line set up for everyone to get their goodies. A lot of time was spent baking the latkes for everyone to enjoy. Families were able to have the latkes, apple sauce, sour cream, clementine oranges, grapes, donuts, and juice.
At the Chanukah celebration last year, JSL and the rest of the boys refused to sing and dance. This year, JSL was shy, but more into it. I have video to share with family and friends later on. The kids did a great job. Then, it was time for a sing along. Since I went to set up the latkes on the back table, JSL sat on Mimi's lap. He was so thrilled that she came along with Aunt S, and Nana. He really liked all of the attention once it was time to have donuts and apple sauce.
Just before everyone left, we decided to take a photo of four generations of us at the party. So Nana, Mimi, JSL, and I jumped into the shot. Thank you to Aunt S for taking the picture.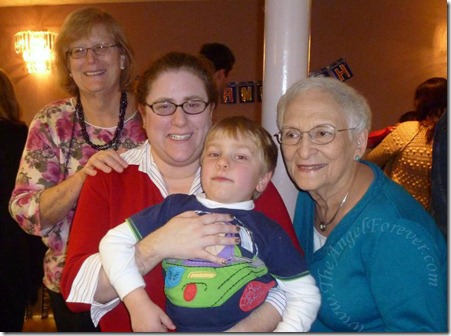 Thank you to everyone at JSL's school for helping to make these memories possible. I know our family enjoyed this special time together.