A long time ago, in a galaxy far far away –er before I had kids I used to put nail polish on my fingers nails. I had the time and energy to do them, and, well, I was not battling the rough-tough terrain that I am now. Since the boys were born, I can probably count on my fingers the number of times I have bothered to do them. That isn't to say that I don't love a little color in my life, especially on my toes during the summer months. I always keep the boys guessing what color they will see via my flip-flop feet each week.
The other day, I painted my finger nails and my four year old son sat in amazement. He had never seen me do it before. What was the special occasion? There was no blog conference, wedding, or other celebration. No, this was a Muppets moment. Yes, you read that right.
<— Check it out!
A day earlier, I found a bounty of OPI brand nail lacquer that is specifically made around The Muppets. Before I knew it, I HAD to get a bottle of Rainbow Connection and then convinced myself to also purchase Animal-istic. When JSL and I were home, I asked him if he wanted to help me paint my fingernails. Please note, he eventually asked to do his own, but I convinced him it would be too hard for him to wait and let the glittery polish dry. Phew! He was fascinated with the process at first and eventually ditched me to play since it was taking forever.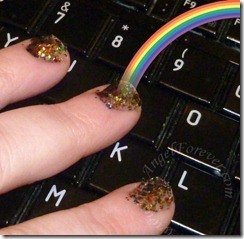 It was fun wearing the sparkly polish around, but I forgot how rough I am with my hands when knitting and working around the house. Guess I will need to work on that if I continue to add colors to my nails. Lots more to share about the Muppets polish, my adventure, and some comedy of errors that happened along the way.
So my question to you this week is inspired by my new curiosity for nail polish and getting it to last long:
Do you wear nail polish? If you do what are your favorite colors for your finger nails? I would also love to have any tips to helping a manicure last longer when there are so many obstacles in life.

___________________________________________________________________________
Thanks to Kailani at An Island Life for starting this fun for Friday. Please be sure to head over to her blog to say hello and sign the linky there if you are participating.
Aloha #183