Do your children like to draw? My eight year old son, NHL, has caught the drawing bug. I still remember growing up and constantly drawing with the Ed Emberley books. I loved, loved, loved them and would spend hours making the critters and characters in the books come alive. I think these books may have sparked my desire to continue with art classes when in high school. To me, they were great to be creative and relax a bit from the high level science and math courses that I took.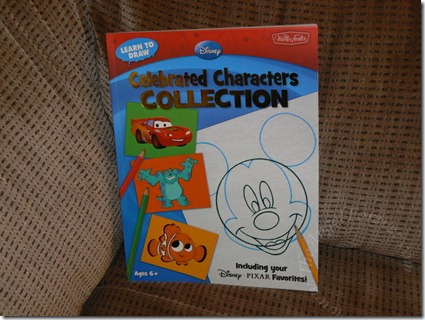 During our February 2010 trip to Walt Disney World, NHL was fascinated with the drawings and animation area at Hollywood Studios. While visiting one of the gift shops, he begged TechyDad and I to allow him to purchase something. It was a giant "How to Draw" book of Disney characters. It looked like a bit much for him, but certainly something he would grow into. As a perk, it was not a plastic toy or new stuffed animal. We bought the book seen above. We pulled the Learn to Draw Disney: Celebrated Characters Collection
book out recently and NHL adored it. He kept trying new characters and making up stories to go along with his drawings.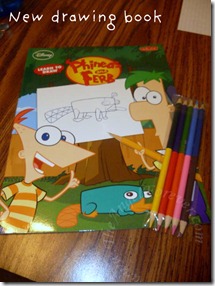 Recently, a Scholastic book order came home and something snagged my attention. There was Learn to Draw Disney Phineas and Ferb Book
that I knew NHL would love. This would combine his love for Perry, Doofenshmirtz, and other characters from the show with drawing. I ordered it to put away for Chanukah. TechyDad and I were right, NHL was in love with his new drawing book.
We were impressed with the easy to follow instructions in the book. The new Phineas and Ferb book is actually made by the same Walter Foster publishing company. Inside the book there is a table of contents with all of the characters that you can learn to draw yourself. NHL was excited to see not only Phineas, Ferb, Perry, but also Baljeet, Buford, Jeremy, and many others.
Here is a sneak peek inside the book at drawing Agent P and Dr. Doofenshmirtz: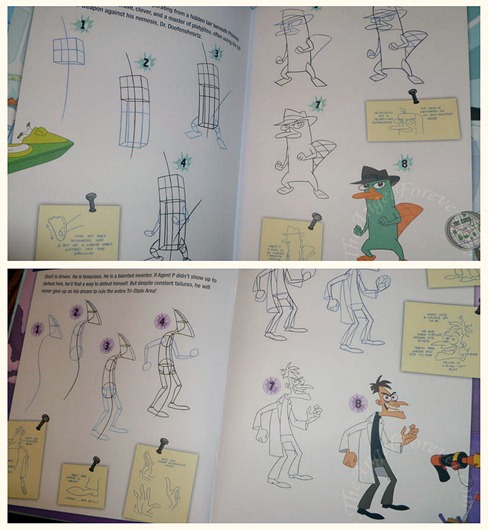 During one of the days of vacation, we pulled out the drawing books and other items to spending some time inside the warm house. NHL immediately picked a character to draw. Much to my surprise, he picked Buford and got started.
It was fun to watch NHL concentrate and smile when he was finished and had a favorite Phineas and Ferb character drawn on his own paper. Yes, I do believe many hours of drawing fun will continue with this book, and likely more from Walter Foster in our future.
Do you have any drawing books that your family loves? I would love to know. I would also like to hear about what have you read recently? Please be sure to link up to your Tuesday Tales and/or leave a comment below. Include something you read on your own, with a child or someone else. Tuesday Tales are all about spreading the love for books.

Disclosure: As mentioned, we bought both of the books featured in this post. Two Amazon Affiliate links are included. Should someone purchase these from Amazon I will receive a small percentage of the sale. As always, all opinions are my own.