There are so many amazing books out there, but not nearly enough time to read everything. Our Kindle and the Kindle App on my Droid Bionic have opened up a lot of additional reading opportunities. It is a lot easier to carry a book on your phone than a 300 plus page hard cover book.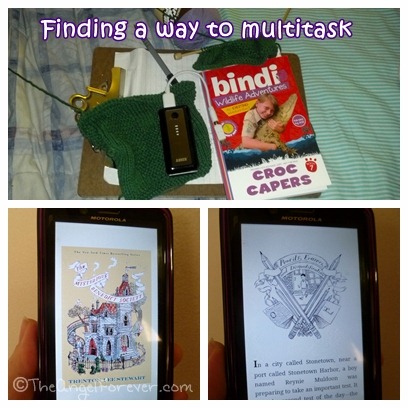 During the summer months, I like to get some gift knitting accomplished. This would be a great time to read, but, well, you can not follow a pattern and "read" at the same time. Check that, you can thanks to audiobooks. Our local library system and the NYPL have audiobooks to check out that are in WMA format. While they can be used on OverDrive Media, it is not compatible with my android based phone. There are supposed to be apps that I can get to work around this, but I just did not have the patience. I pulled out my iPod Shuffle, loaded my book onto it, and set it to play without shuffling.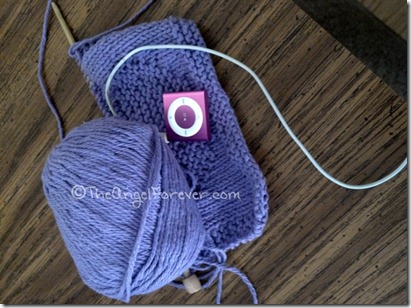 At first, it seemed to work. I sat knitting and listening to my book the first night. The next day I was listening to the book outside while the boy were playing with chalk. I thought I recognized part of the book. Later on, I realized I was listening to the same chapter for the second or possibly third time. Oy!
Rather than figure something out with my phone, I took out my old iPod Touch and transferred the books onto it via OverDrive Media Player on my computer. It worked beautifully. The best part, the book made a lot more sense when it was in order and not shuffling the chapters. Now, I will focus on knitting and reading Peter and the Starcatchers at the same time. Then, I can try to plan a trip to NYC to see the play.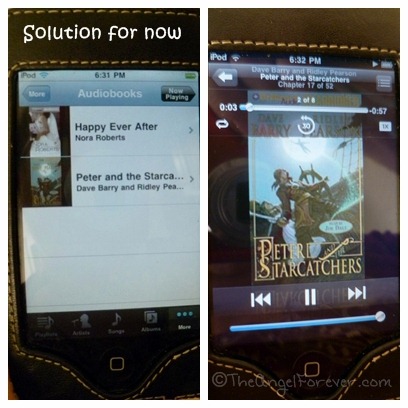 If you have an Android phone and know of an app to play WMA audiobooks, please let me know what has worked for you. Ideally I would love MP3 format, but that is not always an option.
As always, Tuesday Tales are all about spreading the love for books. What have you read recently? Please be sure to link up to your book posts in the comments below. Include something you read on your own, with a child, or someone else.