The Scholastic Book Fair was visiting school recently and I promised the boys that I would take them shopping. While a teacher caught me to ask me a question, the boys went off on their own. Of course, my boys went right to the most expensive items there. I managed to move them away because one was on a Chanukah list for the big kid. We continued to look around.
JSL's face suddenly lit up when he recognized a book from his kindergarten classroom. Pete the Cat: I Love My White Shoes
by Eric Litwin was coming home with us. The adorable feline on the cover illustrated by James Dean really intrigued me. Later on, JSL and I went back to the book fair and I bought him the other book from the series. Yes, Pete the Cat: Rocking in My School Shoes
was also going to join our library at home.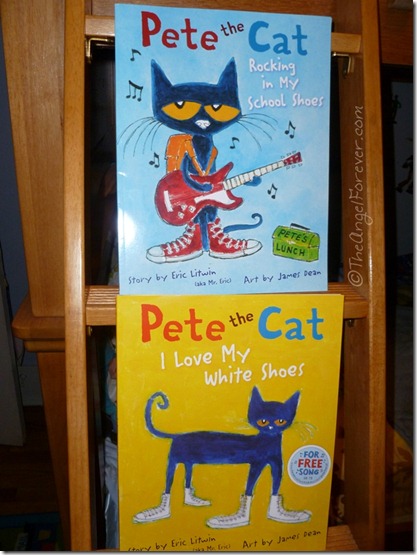 I hate to admit it, but this was my introduction to the Pete the Cat books. I am now a big fan of Eric Litwin and his furry feline character. I love the repetition, rhyming, and learning within these cute stories. Pete the Cat also has songs that you can download to use when reading the books. I can not tell you how many times we listened and rocked out to these this weekend. JSL now "reads" the book and sings the song as he turns the pages. This is so great for early readers. There are a lot of Pete the Cat items available on the Harper Collins website including the songs, videos, and downloadable activities.
Here is a preview video of Pete rocking in his school shoes:
I highly recommend these books as a fun way to encourage early readers. Plus, you can use them to encourage writers workshop ideas with more tales about Pete and his shoes. If you are looking for ideas, there are some great ones on Pinterest. I do believe that JSL and I will be checking some of these out together during winter break.
Are you familiar with Pete the Cat? As always, please share what you have read recently. Be sure to link up to your book posts in the comments below. Include something you read on your own, with a child, or someone else. Tuesday Tales are all about spreading the love for books.

Disclosure: We paid for the Pete the Cat books on our own during a fundraiser at our school. Two Amazon Affiliate link are included in this post for the books mentioned. I will receive a percentage of money for the sale should you opt to buy the book through that link.