Dear JSL,
Your kindergarten class had to make a family banner. The banner was to express how we celebrate Chanukah. Each member had to trace their own hand, write their name, and draw their favorite part of the holiday inside. As we got started, you helped me to gather Chanukah glitter, markers, foam stickers, and more. As we tried to figure out how to fit all of our hands on, you instructed me that Daddy and I had to use our real names. We could not put Mommy and Daddy inside our hands.
You told me to do my hand first. I traced mine with my favorite color and then drew musical items. I love Chanukah songs and being able to sing them every night when we light our menorah. Daddy did his next and put potato latkes and jelly donuts. Then, NHL put presents and Chanukah gelt into his part of the project. When it was your turn you wanted to put lighting the candles and gifts. Then, it was your time to put things all around the banner. You had a lot of fun with this.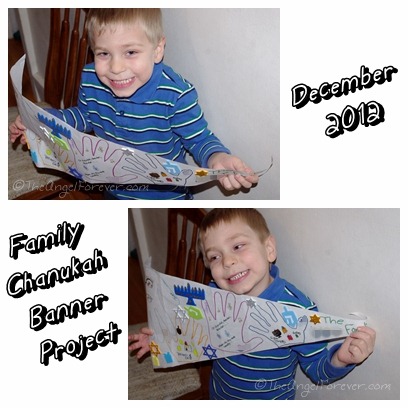 I know you are going to have fun telling everyone all about your banner in school. You already enjoy doing Chanukah crafts during centers and telling everyone about the holiday you celebrate. I can not wait to begin the Festival of Lights with you and the rest of our family tonight.
Love,