Chanukah started Saturday night. Each night, we light the candles with the boys. This year, they each have a new menorah from Uncle J and Aunt A. We say the prayers together and then watch the candles slowly burn.
As the candles are flickering, we often put on Chanukah music. We have songs from Barenaked Ladies, Susan Egan, The Mama Doni Band, and others. This year, we also added a new song from Laurie Berkner's holiday album called Candle Chase. Yes, I bought the song and it is a great addition to our collection.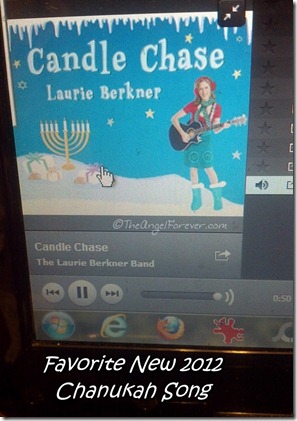 Of course, more music is available in video form. The Maccabeats have a new original song for the Festival of Lights that they wrote called Shine. Here is the video below:
In addition to this, four of the original Maccabeats alumni moved on to start a group called StandFour and they have a song new video out called Eight Nights – Hanukkah Mashup.
Do you have a favorite song for Chanukah? I would love to know so we can add new titles into our song collection.
Happy Chanukah to all that celebrate the festival of lights.

Disclosure: An Amazon Affiliate link is included in this post for the song mentioned. I will receive a percentage of money for the sale should you opt to purchase it through that link.