It's hard to believe that it has only been about a year since I entered the wonderful world of owning a smartphone. TechyDad and I held out for as long as we could. It really was a matter of trying to be frugal, but then we realized opportunities that we missed thanks to not having a more functional phone. I look back now and cannot imagine life without a smartphone. My phone allows me more freedom.
This is where I am honored to share that I am a Verizon Lifestyle Blogger. Yes, I was asked to participate in their program to try new phones within my life and share how I use them. As a long time Verizon Wireless customer, I can stand behind the customer service that we have had and continue to have with this company. Now,  I am thrilled to be working with them as a blogger.
Part of MY World
Using apps are a daily part of my life. There are at least a dozen that I use each and every day without fail. This includes my e-mail apps, Facebook, TweetDeck, Pinterest, Chrome, Fitbit, Out of Milk, Add Watermark, Instagram, PicsArt, Kindle, and GoodReads. I also use the app for our local library to renew, request, and locate books. With a cup of coffee in one hand, I can sit down and get some work done right from my phone.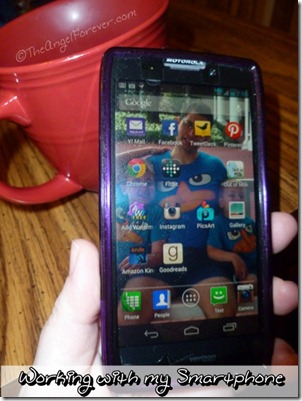 Never too Connected
Some people may think that being connected all the time is a bad thing, I do not. I am able to put my phone away and do things with my family. At the same time, thanks to my phone, I am able to respond to business on the go without worrying that I will not be at my laptop for hours. I do not think of it as making me too connected. My phone helps me as a wife, parent, writer, educator, and advocate. Teachers know that they can call or e-mail me at any time. If I am walking out of school, I can sit in my car and write a quick note to alert them. When in a meeting with someone, I can pull up a document, website, or other resource to share and make a point.
Mom is Almost Always Prepared
I am far from perfect, but my phone can help me in a pinch. Thanks to technology, the cameras within the phone allow me to snap photos on the go and not worry about getting my point and shoot camera if I am in a hurry. The video capability also is a wonderful perk that helps me to record milestones when I forget my regular video camera. I can set up my phone to be synched with a calendar to remind me of doctor visits, conferences, or other important event.
Of course, my phone has helped when I have gloomy kiddos waiting in a doctor office complaining about a wait, test, or other item. In a pinch, I can find something new on the go to keep them occupied, happy, and ease anxiety. Eeyore moments melt away for my Aspie son who has a routine when waiting. Yes, my smartphone could be considered therapy at times since it keeps him calm and happy in stressful situations.
So if you see me out and about, chances are my smartphone is very close to me. Like my original Droid Bionic, my new RAZR HD has become a part of who I am. It does not make or define me,  but allows me to be a more organized version of myself.

Disclosure: As a member of the Verizon Lifestyle Blogger program, I am testing out different devices and sharing how I utilize them in my life. No other compensation was received and all opinions are my own. We have been long time Verizon Wireless customers.