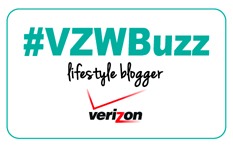 Disclosure: As a member of the Verizon Lifestyle Bloggers, I recently received a RAZR HD phone to test out and share ways that I use my cell phone to make life easier. There was no other compensation. I am a paid Verizon customer, and all opinions are my own.
Here is my time for a confession. I am a list maker. I thrive by making lists. They help me to recall things, stay more organized, and keep on task. It could be the teacher in me, but I really have a hard time when there is no list to keep me going. Of course, there is a problem with my paper list method.
As you can see above, there are three lists and most likely more of them floating around my work area, calendar, and beyond. In addition to this, I am notorious for forgetting my list when heading to the store. There is nothing more dangerous than shopping for groceries without a list.
Just before Passover, TechyDad and I were out to lunch without the boys. As we were planning out Passover Seders and meals, I wanted to make a list. We were researching sponge cake recipes and needed to get some items. Problem, I had changed my purse and did not have paper or a pen. Solution – I quickly added a new app to my RAZR HD.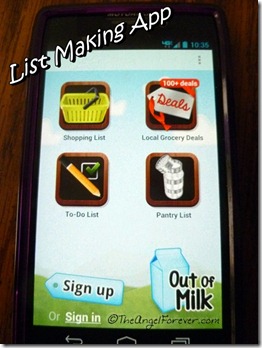 With Out of Milk on my phone, I was ready to go. I can use the shopping list to keep track of items that I need to pick up at the store. Plus, the To-Do List option allows me to keep tabs on items that I need to get done during the day or week ahead. There is more to explore, but that will come with time and I am also curious about the paid version of the app as well.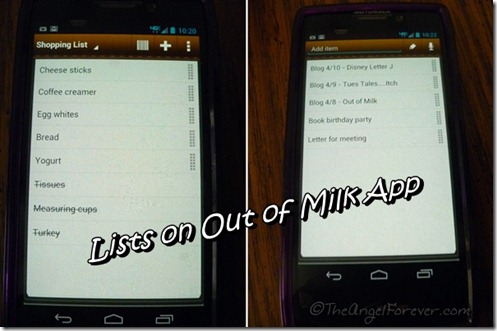 The best part of this free version of the app is that I no longer forget my shopping lists on the dining room table. Let's be honest here, I have done that so many times I can't even keep track. Now, when I am at the store and I think of something I need to do, I can open up the app and add it to my list. Simple, easy, and very effective.
Do you have apps that you use to help with organization and/or daily tasks? I would love to know as I continue to explore more items on my smartphone.

Disclosure: As a member of the Verizon Lifestyle Blogger program, I am testing out different devices and sharing how I utilize them in my life. No other compensation was received and all opinions are my own. We have been long time Verizon Wireless customers.