Books are a big part of our lives. As a teacher, I started a huge collection and now our boys have added a lot more to the mix. When we saw that we would be in town for The Albany Children's Book Festival on April 27, 2013, we knew that we would have to go.
When we first walked into the main room, the boys were not entirely sure which way we should go. Each of them had been given a little passport like book to collect autographs of authors and illustrators. If they did this, they could show it to get a special wizard hat later on. Looking back, I wish I had taken more photos and been able to chat with the authors and illustrators more because it was a fascinating experience.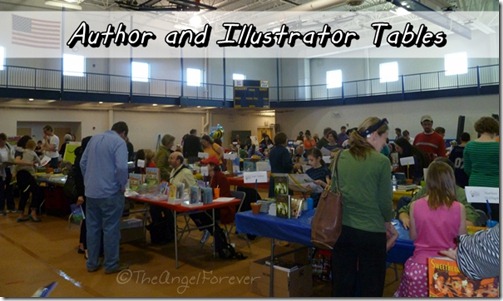 At first, the boys were a little shy and unsure of where to find the people in their different books. Soon after, they were ready to get autographs from anyone and everyone at a table and see what books were on their tables.
One of the first tables we went to was with author Amy Gordon. NHL noticed one of her books called Return to Gill Park and we learned that it is part of a series that she has written. She signed the boys' book, we took a photo, and I grabbed her card to add these books to our reading list.
Sitting next to Ms. Gordon was author Laurie Calkhoven and many of her history based books. TechyDad was very intrigued with her picture book I Grew Up to Be President. I am excited to see more historical books that NHL may not be reluctant to read. Her Boys of Wartime looks like great historical fiction books that we will add to our summer reading list.
From here, we wandered around some more looking at a lot of tables and trying to take in all of the amazing books around. That is when I spied a book that I had been sent from a publisher in 2010 and was excited to meet the author. Jennifer Berne was beyond sweet and fun to chat with. When I asked her to pose for a picture, she immediately pulled over Calvin Can't Fly. Now I can't wait to read some of her other books like Manfish: A Story of Jacques Cousteau and On a Beam of Light: A Story of Albert Einstein that is coming out in May. We are also super excited to hear that Calvin will be back for a sequel.
While I was talking to Ms. Berne, she introduced me to the woman sitting next to her. At first it took me a minute and then I realized I knew her work. Yes, she is the brilliant illustrator behind the pictures in Pioneer Woman's books about Charlie. Diane deGroat was too funny talking about how Ree is more famous than she is. I explained that my son was in love with Charlie thanks to her drawings and wanted to tell his own story while looking at her illustrations in Charlie the Ranch Dog.
There is a lot more to share, but I am going to break this into a few posts so I can highlight the people that we were able to meet and take photos with.
I would love to know if you have met any authors and illustrators and what your experience was. This was so much fun for the boys, especially after they heard about my tour with author Ridley Pearson a year ago in Epcot.