August is here and for many across the country that means Back to School month. We actually do not go back until the week after Labor Day, so I have a little more time to get the kids ready for school. Of course, that does not mean that I have been waiting to get supplies. I posted about our list recently and we have slowly been working on it. The other night we went hunting for some composition notebooks. I handed TechyDad the list to begin shopping with the boys while I went to the craft store. When I met back up with them, our school supply list had vanished. Since I did not have the complete list and forgot to look at my own website (ooops), we grabbed the notebooks and called it a night. To finish up with getting our supplies, I am going to add the list onto an app on my phone so I will not forget the paper or misplace it. Then, this week, I am going to have the boys help me to organize each of their items into their cleaned backpacks for storage. If everything is ready right before school, labeling them will be quick and easy.
When I was recently asked to participate in a Tiny Prints Back to School giveaway campaign with Global Influence, I jumped at the opportunity. I am a big fan of their products and customer service. Personalized items, unrelated to this post, that I ordered a short time ago arrived in less than a week. Thanks to this, I have confidence when sharing their latest Back to School selections.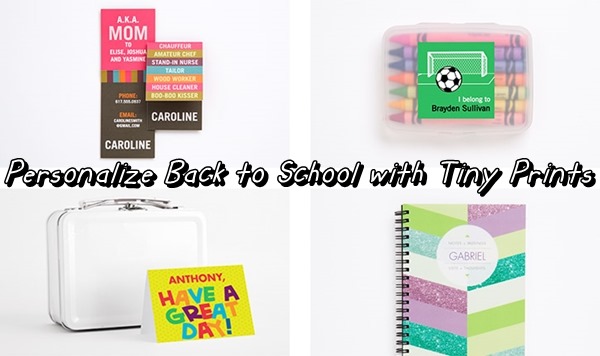 Organizing for Back to School routines is not an easy process. Tiny Prints can assist you with their stylish items that are ready for you to personalize so you have them when the time comes. Parents can look at their planners, calendar notebooks, play date/emergency cards, and personal stationary. In addition to this, you can buy your children fun stickers to use on their school supplies so their know what is theirs. Lunch box notes to brighten their day and allergy cards are also available. If you have older children, do not fear because Tiny Prints has items for teens or college kids heading off to school including lined notebooks, contact cards, dorm art, and moving announcements. As a teacher, I love their selection of items that would make great welcome back to school presents. Say thank you in advance to the person that will be spending a large amount of time with your children. Tiny Prints has teacher stationary, classroom wall art, thank you cards, mugs, as well as iPhone and iPad cases.
Giveaway Time:
Thanks to this Back to School campaign with Tiny Prints, one reader (US or Canada) will receive 5 sets of 24 gift tag stickers, 1 – 5×8 lined notebook, and 100 – mommy/play date/contact cards. Shipping is included for winners in the US, but should the winner be in Canada, they will need to add international shipping costs. This prize pack is the same item that I will be receiving for sharing this information.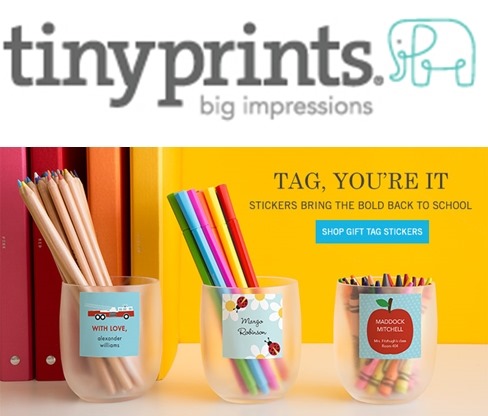 Rules for Giveaway:
The following Bonus Entry may also be done. Please be sure to leave separate comment each time you complete this item.
1 Bonus Entry – Visit Tiny Prints Back to School Page and pin your favorite product to Pinterest.  Tag "Back to School" and leave a link to your pin in the comments below.
Please follow the rules above within the comment section. Giveaway begins August 1, 2013 ends August 20, 2013 at 10:59 EST. You do not have to be a blogger to enter, but must leave a valid e-mail address for me to contact you once the giveaway is over. I will select the winner using random.org and contact you via e-mail. You will have 24 hours to claim the prize. If there is no response, another winner will be selected.
Open to US and Canadian residents only (please see the note above about shipping to Canada).
For additional ways to win Tiny Prints items,  be sure to check out the #TinyPrintsSchool Pinning Party™ taking place on August 5 at 2:00 PM EST. Be sure to RSVP at Resourceful Mommy's page where there are additional details. In addition to this, reader can win even more prizes with the Back to School Pin It to Win It Pinterest sweepstakes, taking place from August 5 – 28.

Additional Disclosure: I wrote this post as part of a Global Influence campaign where I will be receiving a prize package like the giveaway winner. As noted, we have already purchased several Tiny Prints products before, and the opinions expressed are 100% my own.