Rewind back to when I was in college getting my Masters Degree in Reading K-12. One of my classes required us to work with a student that was struggling with reading and work with them. The young girl that I worked with was in elementary school and several grade levels behind. Her slow fluency when reading had a major impact on her reading comprehension. All of these factors played a major role in her being a reluctant reader. Chapter books intimidated her and she did not like to write. All of this changed when I introduced her to the wonderful world of Cam Jansen books by David A. Adler. Suddenly, she was predicting what would come next, talking about the story, and eager to work on a journal where we wrote back and forth about all things related to Cam.
When Sourcebooks Jabberwocky wrote me to let me know that David A. Adler had a new series of books coming out, I was eager to read the book with my son. When the book arrived, JSL was immediately intrigued by the front cover and wanted to know more about who Danny Doodle was.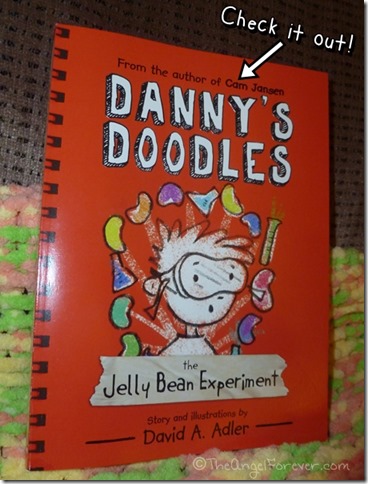 Danny's Doodles – The Jelly Bean Experiment – ISBN 9781402287213 – Written and Illustrated by David A. Adler – Sourcebooks Jabberwocky – September 2013 – 112 page Paperback – Ages 7 and up – $4.99
When we first meet Danny Cohen, the main character in the new series he is the primary focus of an experiment created by his friend Calvin Waffle. This experiment  is a little strange and involves jelly beans and using them in school. We read along and learn more about how the boys became friends. Together they are in fourth grade in Mrs. Cakel's class where her NO sign has made quite the impact.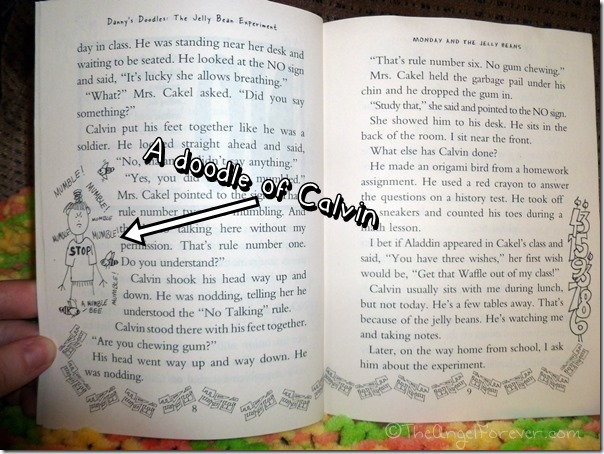 The first in this new series, captured the interest of my first grader. JSL was fascinated with the concept of the author's doodles as if Danny had drawn them into a journal telling the stories. He wanted to see what would happen next and how the doodles would depict it. We both liked seeing and reading how the silly jelly bean experiment would work out and why Calvin was trying this out on Danny.
As we read along, we also witness a growing friendship where Danny learns to accept differences and see that they are good. The humor and realistic situations lead to great conversations whether reading the book at home or in a classroom setting. An Educator's Guide is already available for those interested in checking it out. I know that JSL is already curious about what will happen to Danny next in the second book called The Donut Dilemma.
Have you read any books by David A. Adler? Perhaps a Cam Jansen mystery, some of the Bones books, or something else that you read with your child. I would love for you to share them below.  As always, Tuesday Tales is all about sharing our love of books. Please let me know what you have read recently. Be sure to link up to your book posts in the comments below. Include something you read on your own, with a child, or someone else.

Disclosure: As noted above, I received this book from Sourcebooks Jabberwocky to review. No other compensation was received and all opinions are my own.