While I will not be having any more babies of my own, I adore making items for new babies. A special handmade baby blanket is what I usually make for family and friends. In recent years, I have had a favorite chunky yarn that was always my go to for projects. I would knit up a diagonal blanket for the new little one to grow into and use for a longer time. When I was invited to a baby shower for a friend, I started to look around for new yarn. My friend is not going to find out the sex of her baby until he or she is born. This meant that I needed to find a color that would work for a boy or girl. Ideally I did not want too much blue or pink. Enter Bernat Baby Blanket yarn in Little Sunshine.
The Bernat Baby Blanket filled two musts in my mind. It was not wool for sensitive baby skin (it is actually polyester) and it is machine washable. My boys were jealous when they felt how soft it was once I got started on the project. Originally, I had planned on crocheting my first baby blanket, but I did not like the way it was folding up, so I went back to my favorite baby blanket pattern. I also liked how Little Sunshine has peach, yellow and green for a different color combination. When all was said and done, the blanket above was large and the boys helped me to pick out the new baby a little buddy to go along with it.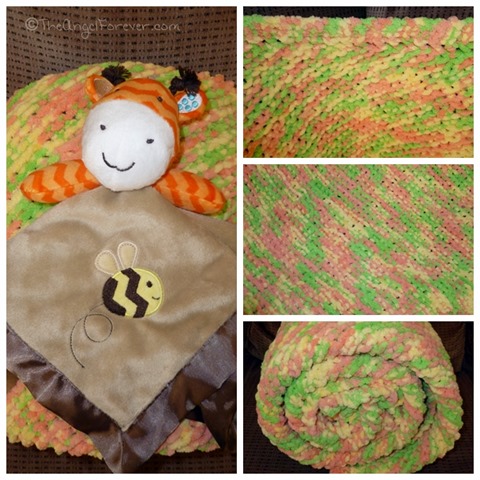 Do you enjoy making gifts for new babies? I would love to know your go to yarn and patterns for gift making if you knit or crochet.

More posts related to baby blankets: