Several months ago, my friend at Chaos in the Country shared some earrings that she liked from a store on Etsy. I clicked on the link and browsed for quite some time. I immediately fell in love with several items from Arts Paradis and knew that I would be ordering something. Time went by and I sent some messages to Charlene Wood to see if she could made her beautiful angel earrings in different colors. Before I knew it, she wrote back to me and said she was going shopping and would look for new colors. A few days later, a rainbow of angel earrings were available in her Etsy store.
Shortly after this, I tried to figure out what to order myself for the boys to give me for my birthday. Yes, you read that right. I told TechyDad that I really wanted something from Charlene's store and was going to order them. Not long after my order was placed, they arrived in a beautiful little bag grouped together.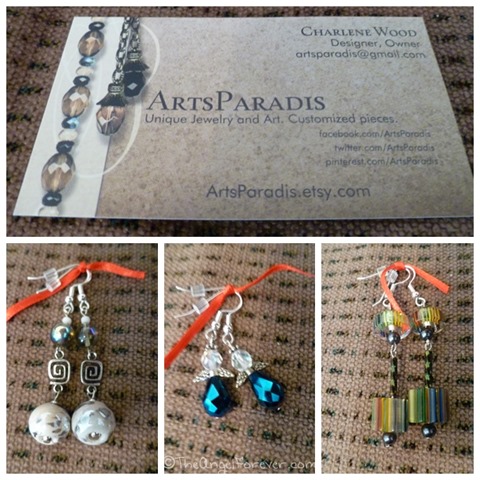 The photos above do not do the earrings justice. They are amazing! Not only are the earrings beautiful, they are constructed really well. Charlene also looked into something that I inquired about. I told her that I really wanted to get something for autism awareness one day. Well, she ordered some items to make some different styles. I am linking to the autism items here. Right now she has wine glass charms, a bracelet, key chain, and several pairs of earrings.
Have you ever bought yourself a birthday present for someone to give you before? I would love to know if other have done this.

Disclosure: None, I simply wanted to share a great artist on Etsy. I bought my earrings and loved them so much I hope others may find something they enjoy.