As a member of the Verizon Lifestyle Bloggers, I was asked to participate in a trial shopping experience using the Isis Mobil Wallet and a Serve card with credit already on it. In my previous post, I wrote about setting up your Isis account and linking it to a Serve card. Once my account was set up, I was ready to explore thanks to coupons that were ready and waiting for me. The timing was perfect because this was the weekend before Chanukah and Black Friday. I was able to head out and beat some of the shopping frenzy and still get a good deal. Before I went out, I went into my Isis account to make sure my Toys R Us reward number was linked and that the coupons were ready.
Once you enter your pin to activate the Isis Mobile Wallet, be sure to check the "+" area to see if there are any new offers from participating retailers.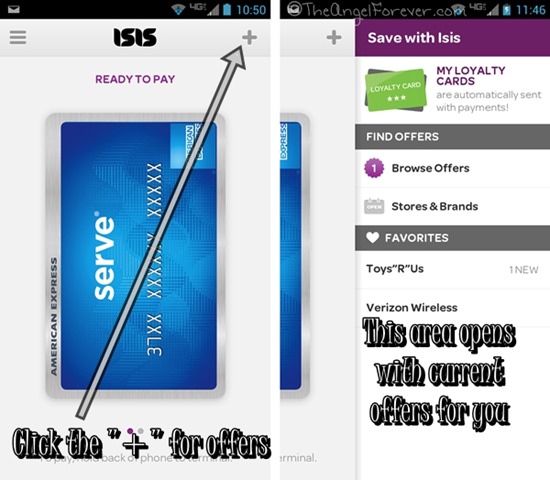 When I went out on that particular day, I knew that Toys R Us had a fantastic offer. The deal on that day has already repeated itself three times now. When I clicked on the browse offers area, I was able to see the following.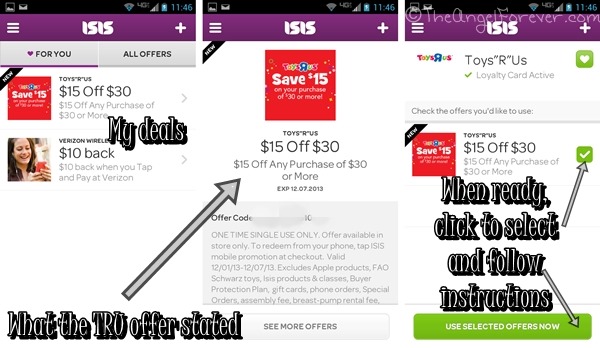 The boys and I went around Toys R Us. While I had no specific deal in mind, something caught my eye. The night before our shopping excursion, I purchased Disney Infinity for our Nintendo Wii as a surprise for the boys. We had been trying to avoid getting into this, but the deal caught my eye. So here we were at Toys R Us, with a fantastic coupon from Isis and a SALE on Disney Infinity characters. Needless to say, TechyDad and I opted to surprise the boys a little early and let them select their new figures in advance of Chanukah. When all was said and done, the three boys (hubby included), each picked out a character.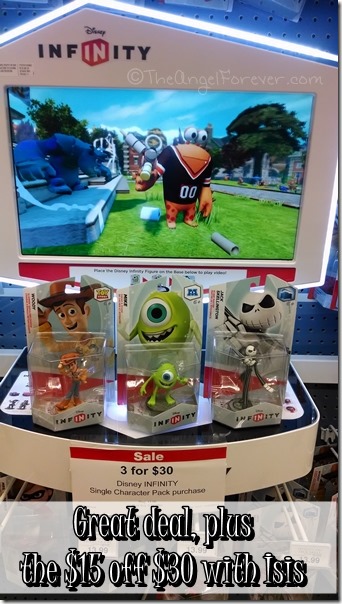 When we were finished shopping, we went to the registers. I have never used an NFC device like Isis Mobile Wallet in the past. This was something new and everyone was watching because it was new to them. I selected the Toys R Us offer, clicked on the green bar, and held up my phone to the credit card machine. The next thing I knew, my phone shook, and I was prompted to ask the cashier to check her end. Sure enough, it registered my Toys R Us loyalty card and took off the $15 from my purchase that was over $30. Next, it asked me to press a button on my phone and then scan to complete the sale by paying with Serve. Once again, the phone buzzed and just like that I was finished. Seconds later, the cashier gave me a high five for sharing something new and we were on our way.
While I was compensated to use Isis for my shopping experience, my opinions are my own. I am definitely a fan of this app and like how quick and easy the process was to use when in a busy store. Is it perfect? No, but my complaints are not with the app itself. I simply wish there were more retailers in my area that signed up with Isis to store their loyalty cards and offer deals. My first experience was so nice, that a few days later I noticed Toys R Us had the same deal back on Isis and I went back to get a surprise Chanukah present for the kids. Oh and another nice surprise when you use the American Express Serve Account with Isis, you get 20% back on every tap for up to $200 credit from now to January 31, 2014. I know I have already gotten this back quickly with my first two shopping trips.
Have you used Isis Mobile Wallet yet? If you have, I would love to hear how you have used it to save money while out and about.

Disclosure: As a member of the Verizon Lifestyle Bloggers, I received a complimentary Serve starter kit with some money loaded onto the card to share my experience using it with the newly revamped ISIS app. There was no other compensation. I am a long time Verizon customer, and all opinions are my own.