In our house, you never have to worry where our Disney Side has hidden. When you least expect it, it will show up in full force. It may be me wearing my Minnie Sparkle Ears to a meeting at school, or it could be crafting with the kids. Of course, it could also be on Twitter while Tweeting to my husband on a Saturday night. Let me set the scene. TechyDad and I were both sitting at the dining room table working on some freelance work. I decided to put some music on. It prompted the following  from Techydad, which of course needed a reply.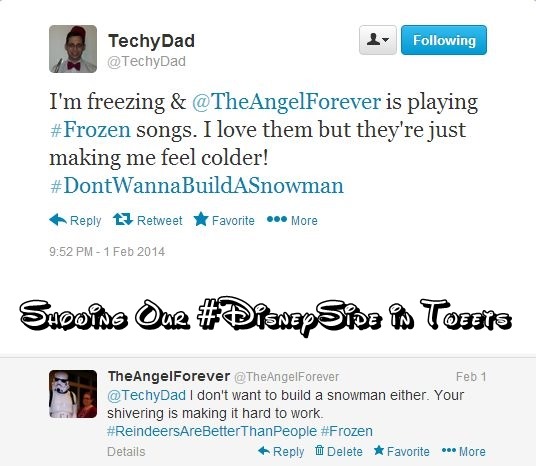 This continued back and forth for about an hour. We may not have gotten a lot of work done during that time, but oh my goodness did we laugh. It truly is magical to see how something silly that had a touch of Disney got us smiling and refocused on our work. You can see more of our Tweets back and forth with the Frozen theme on TechyDad's post What Happens When Frozen and Exhaustion Meet on Twitter.
Has your Disney Side every shown up in an unusual manner? I would love to hear all about it.