Just after Passover, I received an email from an unexpected person. Artie Bennett was reaching out to see if he could send me a copy of his latest book for review. You see, Artie had found my previous review of another one of his books. Yes, one of my earliest Tuesday Tales was about his book titled The Butt Book. That honestly is the name of his book and the subject matter as well. Artie noted in his email that Peter Panda Melts Down would be a bit more traditional and for a younger audience. I mean the title alone helped me to know it would be very different than the book I reviewed and his other infamous book called Poopendous!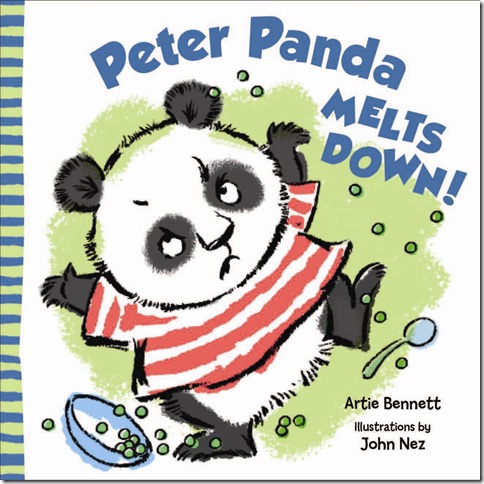 Peter Panda Melts Down! – Written by Artie Bennett – Illustrated by John Nez – Published by Blue Apple Books 
February 2014 – ISBN 978-160905411-3 – $16.99 – Ages 2-5
Peter the Panda is three years old and learning to be more independent. Sometimes he tries things that do not work out, other times he has to stop when he may not be ready. Of course, at three Peter does not always want to do what Mama tells him right away. As we read along, the catchy rhyme and rhythm of the book, we see that a behavior pattern often shows up.
Uh-oh.

Here it comes.

Here comes that frown.

Peter Panda melts dowwwwnnn!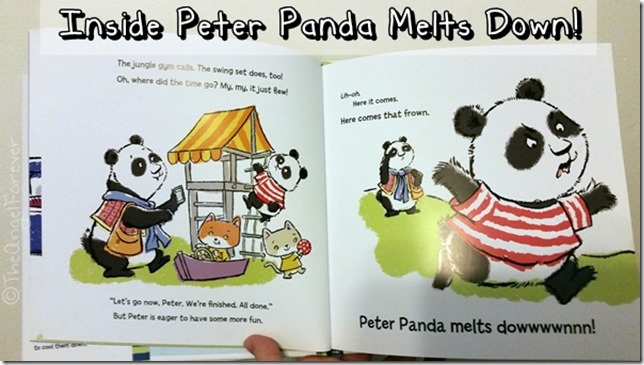 The illustrations by John Nez take us into the world of Peter the Panda and beautifully capture the build up of his melt downs. Of course, the ending of the book (no spoilers here), made me nod and smile even more – thank you Artie!
As soon as I saw the title of the book, I was intrigued. As the mother of a child with autism, I look at melt downs very differently thanks to sensory overload. I was curious how this book could be used by families as a tool. Many children with autism do well with social stories that assist them with coping strategies. On the flip side, as a teacher, I was curious how this book could be used with a preschool set (or older) to talk about how to handle friends if they are melting down, how to calm yourself down, and of course how to use your words. It's easy to ask a child how they would handle the situation compared to Peter Panda. My thoughts are that sweet little Peter will help many children and families to work on melt downs. Mama often uses positive reinforcement with Peter and this is a huge help with young children. In addition to this, Artie Bennett also has Mama use "If/Then" statements to Peter after he has a meltdown. This strategy has been use in helping our son and others on the autism spectrum. I have a feeling Peter Panda and his Mama will help a lot of young children learn a things or two when they read his tale.
FYI we can not wait for Artie Bennett's next book coming out in August. Yes, my classy family will likely love Belches, Burps, and Farts–Oh My!
Have you read any books by Artie Bennett? Come on admit it, you know you want to read one now. As always, Tuesday Tales is all about sharing our love of books. Please let me know what you have read recently. Be sure to link up to your book posts in the comments below. Include something you read on your own, with a child, or someone else.

Disclosure: As noted above, I received this book from the author, Artie Bennett, to review. No other compensation was received and all opinions are my own. Artie never asked me to kvell, I opted to do so on my own.