Each year it has become a tradition to share what our school supply lists are and to see how they compare to others in other locations. As a teacher, I loved this time of year when I could get bargains for my classrooms. As a parent, I try to save when I can, but it is often more important to grab things when they are in stock so there is no stress later on. JSL's second grade supply list came home with his report card at the end of June. While I waited to see if the middle school would post the new 2014-2015 list, it never showed up. This week I called and asked if I could get it sent to me so I could get started on shopping. The photo below are most, but not all of the items that JSL needs for second grade. I have not started to gather things for my middle schooler (still hard to say that), but will shortly.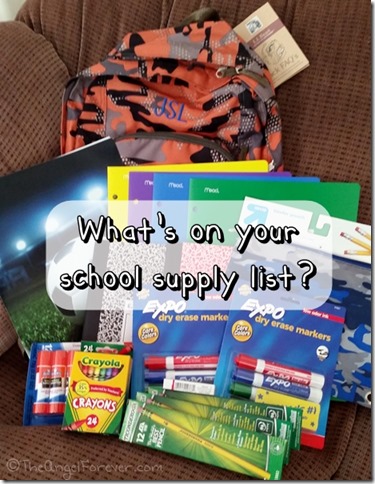 2nd Grade Supply List
One plastic folder with pockets (for take-home)
4 pocket folders (1 blue, 1 yellow, 1 green, 1 purple)
Pencils (3 packages, sharpened, Ticonderoga)
2 erasers
1 box of 24 crayons
2 packages of 4 Expo or Dry Erase markers
1 pair of school scissors
2 glue sticks
2 hard cover marble notebooks (1 black, 1 red)
1 zippered soft pencil case
2 boxes of Kleenex
1 package of baby wipes (unscented) refills
1 large roll of paper towels
Ziploc sandwich bags (gallon size for boys, sandwich size for girls)
2 packs of Post-Its (3×3 for boys, 2×2 for girls)
Money for Time for Kids magazine
Seems pretty standard and to compare it to what NHL needed four years ago, you can see his list here.
Now please hold me. There may have been tears when I saw the 6th grade supply list. I have a feeling this is not complete because they may need items for classes like music and art. I guess we will know more in September.
6th Grade Supply List
Reading
200 index cards
loose-leaf paper
Post-It notes
1 blue folder
2 single subject blue notebooks
blue, green, and yellow highlighter
3 required reading books (Very interesting titles that are all fiction)
Science
1 green folder
1 hard cover green marble notebook
ruler
pencils only
loose-leaf paper
roll of Scotch Tape
pack of baby wipes
Social Studies
1 red folder
loose-leaf paper
1 single subject red notebook
colored pencils
Writing
Index cards
pencils
2 hard cover yellow marble notebooks
1 yellow folder
high lighter
Post-Its
Math
folder
loose-leaf paper
1 marble black composition notebooks
pencils
In addition to this it mentions a 2-3" binder, flash/jump drive 4 GB, 3 boxes of tissues, homework folder, lots of pencils, pens, dividers for binder, and 2 pocket hole punched folders for each subject in the colors mentioned.
Did I mention I am ready to cry? It isn't because of the list, no definitely not that. As a middle school teacher in the past it seems reasonable. I am just reminded that my kiddo is a middle schooler and ready or not it is coming our way.
So what items are on your school supply lists? Have you found any really great sales this year? Please share below. As I have said before, I really am a school supply geek.