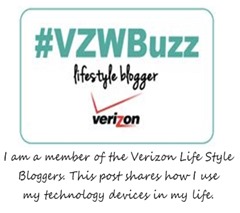 Reading for pleasure and reading at school can be two very different beasts. As a certified reading teacher, I adore watching young children begin to decode words and tackle their first books. Seeing their faces light up at this accomplishment is amazing. As kids continue to grow academically, they hit other literacy benchmarks within elementary school. This summer, my youngest son started to read chapter books without me. Now you never find him without his nose in a book when we are on the go.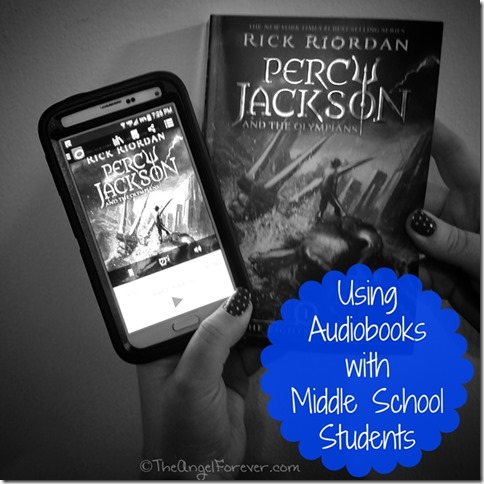 If you think that this is where it stops, you are not correct. When kids enter middle school, the world changes for them as they begin to dive further into literature. Now it is not simply about reading a story and summarizing it. They begin to analyze more and more about the characters, plots, and connections to real world people, places, and things.
When I was teaching sixth grade Language Arts, I decided to try something different with my class while reading Ella Enchanted. I brought the audio discs of the book to allow my classes to listen and read along. What I witnessed was eye opening. Students that may have struggled reading independently were doing fantastic. They were able to actively engage more in class discussions, they absorbed more of the fine details of the story, and they appeared to really enjoy the experience as a whole.
Fast Forward to my oldest son starting middle school this fall. It was something we were quite worried about since he is autistic, but it seemed to be just what he needed. When he read his first novel, I listened to the audiobook on my smartphone. I knew that the change in Language Arts would be big and I may need to step in and assist him with abstract concepts. The audiobook was a great for me to multitask. Thanks to listening to the book, I was able to discuss topics with him. When he had homework, I was able to listen to his ideas to make sure he understood what the question was really asking. Often times, autistic individuals are very literal and this can make learning to analyze literature more of a challenge.
When NHL started his second novel at the beginning of third marking period, I wanted to try another approach. I thought back to when I was teaching in my own classroom and what I experienced with my students. I immediately went to my OverDrive media app, signed into my local library and looked for the MP3 Audiobook I needed. Once I found it and saw that it was available, I checked the book out and it downloaded onto my smartphone.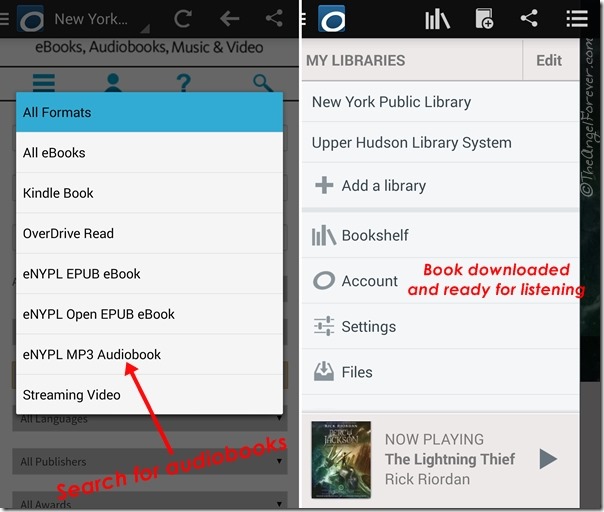 When NHL came home with his first reading assignment, I was ready. We sat down together in a quiet location. I used my BOSE SoundLink Mini speakers so we could both listen clearly together. I handed NHL his copy of The Lightning Thief by Rick Riordan and clicked on the app to listen to the first chapter. So far this approach seems to be helping my son. He is a lot more confident about the experience and is able to delve more into the abstract content within the homework questions. It is still a challenge at times because he is very literal, but I see a major difference over the previous novel he read.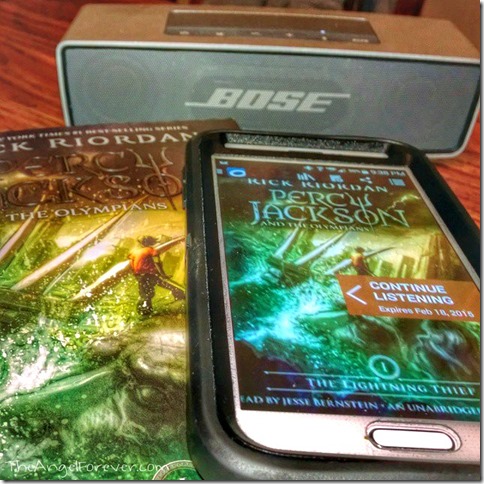 Will this help your child? Every reader is different, so consider your child's learning style and try different approaches to see what works best for them. Some may do well with simply the paper book, while others may enjoy a digital read using the Kindle app. Other kids are better auditory learners and audiobooks are an invaluable asset that may be all they need. Then some children, like my son, respond with two styles combined. Yes, reading along in a paper book while listening to a narrator is not simply for new readers. Using two senses helps my son to focus more on the words and what they mean. The benefits are something that have been studied and I will share more about that in another post
While I have written about OverDrive media app in the past, I think it is a wonderful resource that students, parents, and teachers may want to utilize more. It is an app that can be put onto a smartphone or tablet and utilized with students of varying ability levels to increase their confidence within class.
Has your child ever used an audiobook for school reading? I would love to know about their experience. As always, Tuesday Tales is all about sharing our love of books. Please let me know what you have read recently. Be sure to link up to your book posts in the comments below. Include something you read on your own, with a child, or someone else.

Disclosure: As a member of the Verizon Lifestyle Bloggers, I receive devices like the Samsung Galaxy S5 and Droid Turbo to test out and share ways that I use it in my life. I am a long time Verizon customer, and all opinions are my own.