This shop has been compensated by Collective Bias, Inc. and its advertiser. All opinions are mine alone. #HouseofBBQ #CollectiveBias This content is intended for readers who are 21 and over.
The summer is here and that means we often get together with family and friends for a BBQ. While everyone is home from school, the focus is away from our usual structure. We take it day by day and you never know when we may make plans to head off to the lake to enjoy the sun and fun.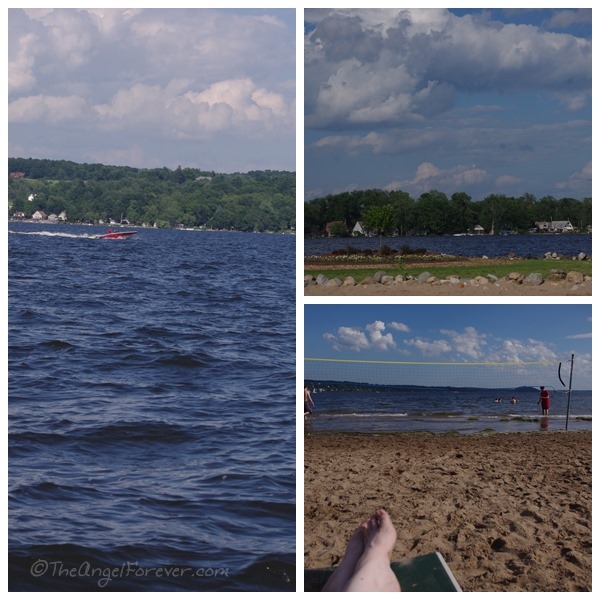 Typically, I am asked to bring dessert. I love to make sweet treats to share with everyone. While we always bring a watermelon, cherries, and other juicy summer goodies, cake is a nice touch to make it extra special. The kids love cookies, there is something beautiful about cutting into a freshly made cake to share with those you love. In the warm summer months, heat and humidity mean heavy cakes are not the best choice. Recently, I decided to make a twist on a recipe that we enjoy. I wanted to see how apple ale would lighten up or change a beloved autumn favorite for the summer. Not everyone enjoys other fruits in cake, so apple is a nice safe item that most people will enjoy.
I went to our local Price Chopper Supermarket to look at my adult beverage options for this baking project. The in-store solutions center was full of great House of BBQ products.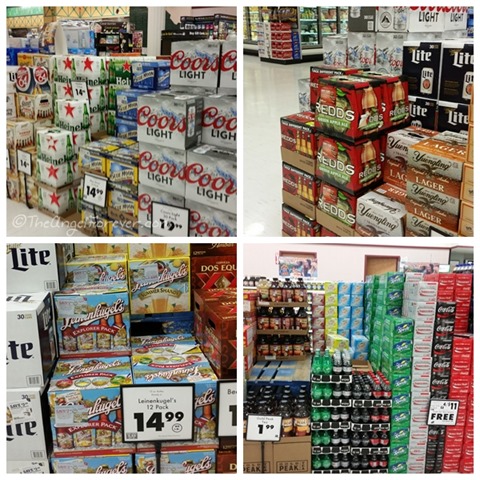 From this area, I decided to get the Redd's Green Apple Ale to use in the cake and extras for adults to enjoy. In addition to this, I picked up some of the Leinenkugel's Summer Shandy and for those that would prefer something without alcohol, a Gold Peak Tea. Then I picked up some granny smith apples to pair up with the Green Apple Ale in the cake.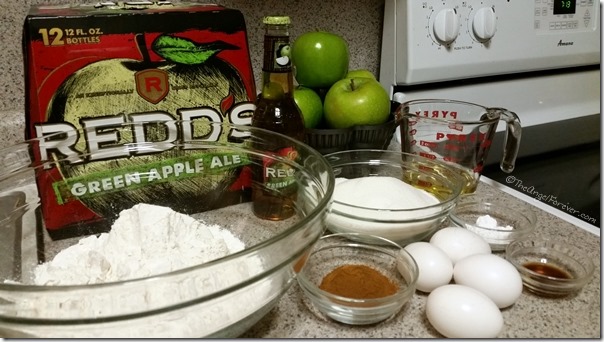 Ingredients you will need:
4 granny smith apples sliced thin
2 cups of sugar, plus 5 tablespoons extra for on the apples
3-5 teaspoons of cinnamon
3 cups of flour
3 teaspoons of baking powder
1/2 cup of vegetable oil
3/4 cup of Redd's Green Apple Ale
1 tablespoon vanilla
4 eggs
Preheat your oven to 350. Be sure to grease and flour your bundt pan. Valuable lesson from me, really, really, really do this because apparently my nonstick spray was not working properly. Lesson learned and IF your cake sticks don't panic. You can cut it out and make it into a delicious crumble with whipped cream to make it pretty.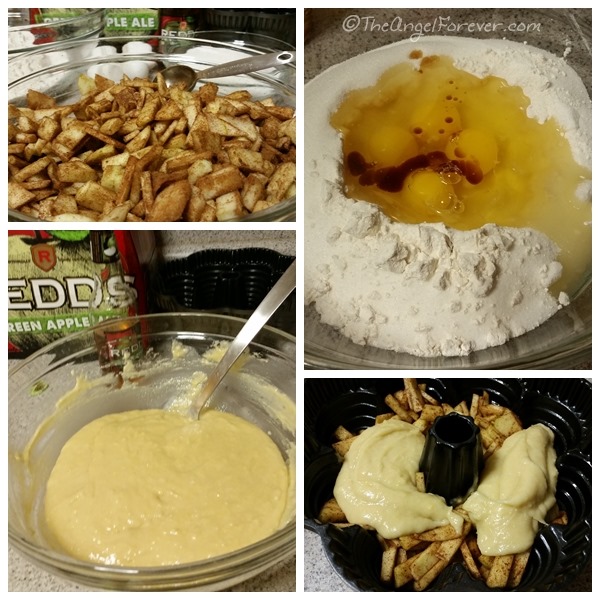 Peel and slice the granny smith apples into a mixing bowl. Sprinkle them with the cinnamon and five tablespoons of sugar. Set this aside while making the dough. Later on you will need to drain any liquid that settles out of the mixture.
Pour all dry ingredients into a mixing bowl. Make a well in the center and pour the remaining wet ingredients into the center. Mix with a large spoon (no need for a mixer) until everything is mixed. The dough will be quite thick.
Spoon approximately a third of the batter into the bottom of the bundt pan. Drain the apples and put a ring of the apples on top of this batter. Then, put another third of the batter on top of the apples. Use more of the apples in a second layer of fruit and top this with the remaining batter.
Please note: If your granny smith apples are huge likes the ones we had, you will not use all of the apples in the cake. We tossed them into baking dish with some rolled oats and pats of butter on top to make a quick apple crisp for the kids.
Bake the cake for about an hour. Allow the cake to cool completely before removing from the bundt pan. Cool completely before taking cake out.
So how did the Redd's Green Apple Ale change our apple cake? It made it lighter and a lot more moist. The inside has a different consistency that is much more summery. It smelled amazing before and after baking. Oh and it was delicious to say the least. Certainly a new favorite that we will be making and taking when invited places.
Do you cook or bake with adult beverages? I would love to know how you use them. For more ideas for your grilling needs head to the Price Chopper Pinterest House of BBQ board.

Additional Disclosure: Thanks to the great experience purchasing Redd's and Leinenkugel at Price Chopper, and the great drinks & fun times shared with friends, I always make sure to get a Redd's or Leinenkugel at Park View Pub,   River Street Pub, and Swifty's Restaurant & Pub in the Capital Region.