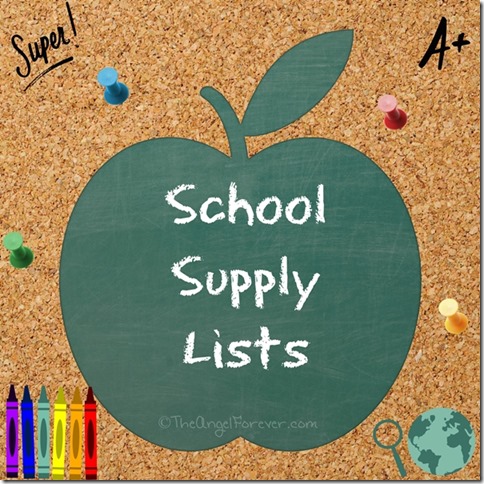 If you have been in a retail store lately, chances are you have noticed all of the Back-To-School signs up all over the store. There truly are great deals out there, but for some of us we are just getting into the groove of summer break. Of course, there's something special about getting bargains and new schools supplies. Perhaps it's the teacher in me, but I find it fun going to get the boys their new supplies.
The tradition on my blog has been to share our school supply list each year as the boys have gotten older. It's pretty interesting to see it change and to compare what JSL needs several years after NHL was that age. So let's get started.
3rd Grade List
5 black and white composition notebooks
5 folders – red, yellow, purple, blue, and green
Plastic take home folder
24 pencils
Erasers
Scissors
Markers or 24 crayons or colored pencils
Post-It Notes
Pencil Pouch
5 of the 1.4 oz or larger glue sticks
2 boxes of tissues
Ziplock sandwich bags (boys bring this – girls bring wipes)
1 roll of paper towels
10 Expo dry erase markers
Old sock that's clean to use with the dry erase boards
Money for planner and Time For Kids
We will go shopping for some of these items at home. I know I had extras and things like the pouch and scissors are still in great shape.
7th Grade List
ELA
1 1/2" binder
dividers
loose leaf paper
folder
Social Studies
1 1/2" binder
loose leaf paper (2 packages)
folder
index cards
dividers
sheet protectors
Science
1" binder
dividers
loose leaf paper
green folder
Math
1" binder
loose leaf paper
French/Spanish
2 folders
2  composition notebooks
box of pens
box of pencils
tissues
loose leaf paper
glue stick
clear tape
2 high lighters
index cards
Pocket dictionary
Technology
In addition to this, all areas note more loose leaf paper (clearly we eat it in middle school), along with pencils, pens, and highlighters. I'm assuming there will also be some novels that we need to purchase for ELA, but none are mentioned yet.
So what items are on your school supply lists? Have you found any really great sales this year? Please share below. As I have said before, I really am a school supply geek.