As a Jamberry Independent Consultant, I love that I can use my business to help people and charities that are near and dear to my heart. In February, March, and April, I donated commission from a party to a local autism group that has helped us over the years. Of course, Jamberry also has committed to helping charities. They have done special designs over the years that are for organizations and causes. On Wednesday, they released the Nepal Relief design  and Jamberry will donate 100% of their net proceeds from the sale of it to UNICEF to support the earthquake relief effort.
Of course, the original Autism Awareness design is what made me fall in love with Jamberry. That wrap retired at the end of April, but a new design was released and will once again include a donation to the Autism Society by Jamberry.
I am always open to ideas to help friends and charities. Right now, a group of my friends who all had Summer 2003 babies together are working to assist one of our members. For 12 years, we have known each other and been there to support one another. Now, we will be holding her hand and drying her tears from a distance as she and her family received some life changing news recently. Lisa's three year old daughter Paislee was diagnosed with brain cancer. We set up a TeeSpring fundraiser with shirts designed in Paislee's favorite color that features a princess and her castle.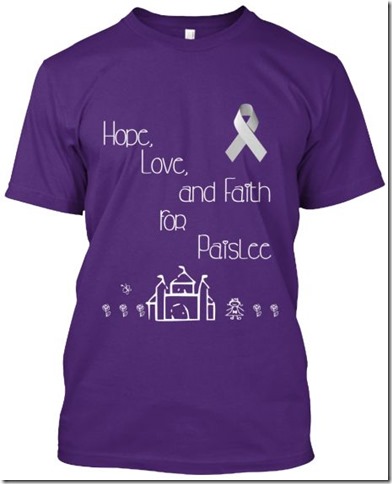 In addition to this, I am donating all commission in my Prayers for Paislee Jamberry online party to Lisa and her family. This would be a great time to order some new nail designs for the summer including the special Throwback Thursday Deigns that will keep changing each week until mid August. All of the items shown are also eligible for the Buy 3 get 1 free.
More coming soon about helping another beautiful friend of mine also in the Summer 2003 Moms group. Steff was just diagnosed with stage 4 appendicineal cancer. Steff's Army will be wearing anchor's for her when she has an upcoming surgery and further treatments.
Please feel free to message me if you have any questions or would like to talk about a fundraising idea for your charity.