The answer to the previously asked bathroom question is that at least 10 people (5 adults, a 4 year old, a 6 month old, and a 2 month old) can fit into my brother and sister-in-law's bathroom.
Why would all of us head into the bathroom (not a master bathroom either) together?
Were we having a party? No, not quite.
We all went in to watch my new little niece S have a tub. Since we are not local all of us piled into the room to witness. As you can see from JSL's face he was a little confused with why everyone was squishing into the room.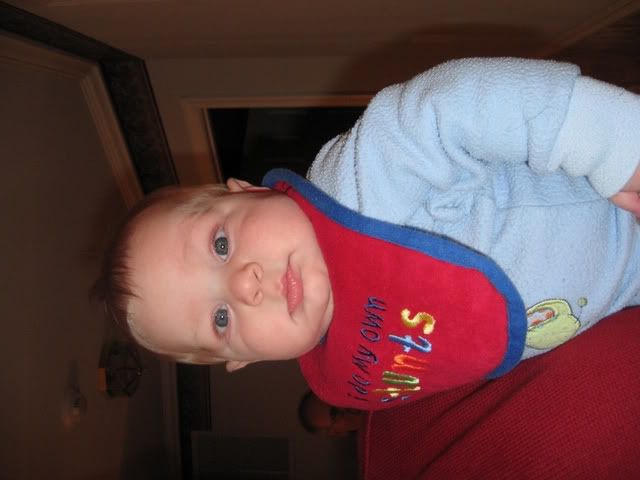 Here are all of the troops heading into the bathroom. Included in this nice group are of course Cousin S (taking the tub), Uncle I and Aunt M (giving the tub), Mimi (great-grandma), Nana, Papa, JSL, NHL, JL and I.
Once we all were in I noticed poor NHL wedge in between Papa and JL. Here's what his view looked like. Do not worry, he soon was able to get up front for a nice view of the tub.
Here is a mosaic showing just how many dorks of my family members can fit into the bathroom so you can truly appreciate our style of bonding.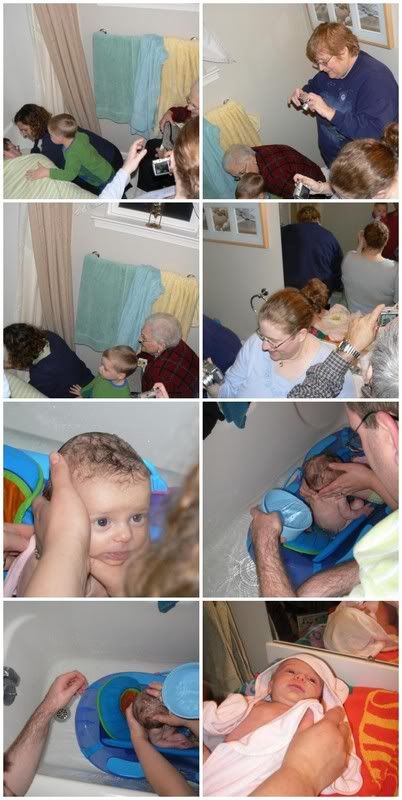 So that is the rest of the story that I teased about the other day. Sorry it wasn't that thrilling, but we all thought it was pretty funny at the time. Heck it was interesting to see how JL and I were able to capture different point of view with our two cameras. I can not wait to see what my parents were able to get one theirs.