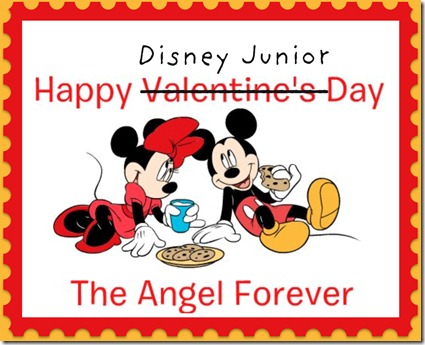 No need to adjust your eyes. You are reading correctly. It is February 14th and technically Valentine's Day, but in our house it will now be called Disney Junior Day. For months now, my three year old son has been crying to see Disney Junior. He did not understand that he would have to wait until this day to see the newly revamped television programing for children by Disney. This is what we have been teased with for quite some time:
About Disney Junior:
Beginning on February 14, 2011, Disney Junior will be available every morning on Disney Channel! Disney Junior invites mom and dad to join their child in the Disney experience of magical, musical and heartfelt stories and characters, while incorporating specific learning and development themes designed for kids age 2-7. Disney Junior's animated and live action series blend Disney's unparalleled storytelling and characters kids love deeply with learning, including early math, language skills, healthy eating and lifestyles, and social skills.
In our house this Valentine's Day, we will have a little chocolate, and wear red, but the most exciting part will be checking out Jake and the Never Land Pirates, Babar and the Adventures of Badou, Tinga Tinga Tales, and other Disney favorites.
Disclosure: As a big Disney fan, I felt the need to share this special day with my readers. After listening to my son cry for weeks to see Disney Junior, it seemed like a monumental event in our lives.