The other day, JSL had a package in the mail. It was his February book from the PJ Library. When he opened it up and saw what was inside, I think I was more excited. You see, I recognized the book and was so happy it was now in our personal library.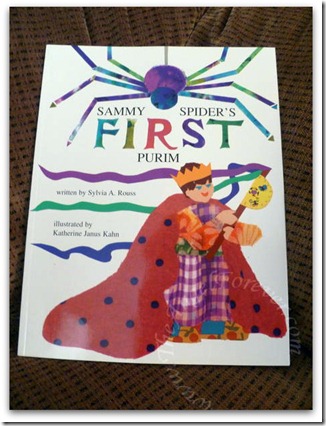 More about Sammy Spider's First Purim:
The Shapiro family is getting ready for Purim. Josh is making a grogger to take to the synagogue Megillah reading. Sammy Spider wants to participate, but as Sammy's mother reminds him, "Spiders don't celebrate holidays; spiders spin webs." This time Sammy's curiosity gets him stuck inside a grogger, spinning noisily among the beans. How will he escape?
Sammy Spider's First Purim – Written by Sylvia A. Rouss – Illustrated by Katherine Janus Kahn – Kar-Ben Publishing – January 2000 – ISBN 978-1580130622 – $7.95 (paperback) – Ages 4-8
The Sammy Spider books are a series by Sylvia A. Rouss about a curious young spider named Sammy. Sammy learns about Jewish holidays by watching the Shapiro family and asking his mother questions. Other Sammy Spider titles include books Shabbat, Rosh Hashanah, Sukkot, Simchat Torah, Hanukkah, Tu B'Shevat, Passover, Haggadah, Trip to Israel, and Days of School.
What We Thought:
We are definitely fans of Sammy Spider. Sylvia A. Rouss does an amazing job of incorporating fun Purim facts into the adventure of Sammy Spider. We follow Sammy within the colorful Eric Carle like illustrations done by Katherine Janus Kahn.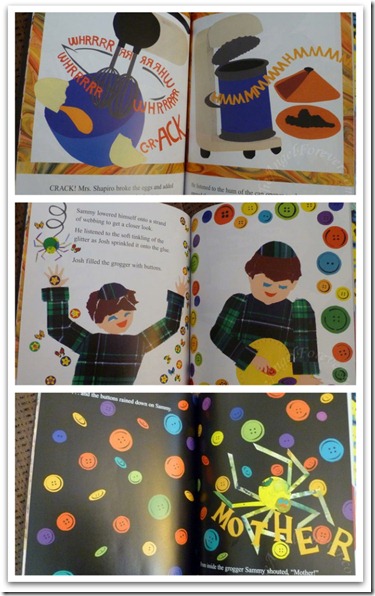 Sammy learns that Josh will wear a costume to synagogue where he will hear the story of how Queen Esther saved the Jewish people. We also see Mrs. Shapiro making hamantaschen, while Josh creates a grogger of his own. Both of my boys are now curious to read more stories about Sammy Spider and I hope to add to our collection soon.
I am also very impressed with the web site that Sylvia A. Rouss has. Not only does she have her own blog, but also an area with Sammy Spider curriculum activities. I also spied a chapter book that she wrote called Mitzvah the Mutt that may be a great read with NHL.
So what have you read recently? Please be sure to link up to your Tuesday Tales, Book Posts, and/or leave a comment below. Include something you read on your own, with a child or someone else. Tuesday Tales are all about spreading the love for books. 
Disclosure: My son received this book as part of our membership to The PJ Library. We were never asked to write about the book. The opinions expressed in the review are my own and no compensation was given. The widget within the review is an Amazon Affiliate where I will receive a percentage of money for the sale of the books should you opt to buy the book mentioned.