Almost ten years ago, TechyDad and I were married. At the time, my soon to be husband had never been to Walt Disney World.
It's okay to gasp since I know I did.
When we were planning our honeymoon, we wanted to do something different. I am not a beach person. Over time, I convinced TechyDad that we should do a Walt Disney World honeymoon. We stayed the the Beach Club Resort, added on the Deluxe Dining Plan, made some advanced dining reservations (ADRs in Disney lingo), planned to see Cirque du Soleil's La Nouba, and did several behind the scene tours. At our table, during our reception, we even had two special guests.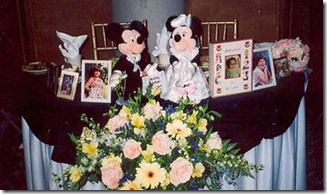 Fast forward to the first event at the Disney Social Media Moms Celebration. We were all invited to be guests at the Disney's Fairy Tale Weddings and Honeymoons Platinum Soiree. When we arrived, we were given Minnie Bride Ears or Mickey Top Hats. TechyDad and I almost bough similar ones on our honeymoon, but never did. Now, I had my own Mickey ears.
When we walked toward Franck's, near the Wedding Pavilion, we were greeted by Franck and Edna. Yes, these characters were brought to life (Father of the Bride and Incredibles anyone?!) and came over to as many people as they could to welcome us to the event.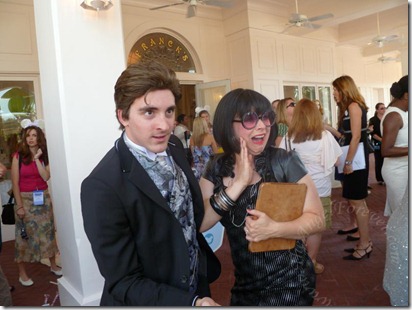 Franck and Edna explained that we should go make ourselves a candy box to take as our gift. Who are we to say no?! It was like Candy Land (which actually has a Disney version) was placed on a magical table before our eyes.
After this, we went into Franck's to see all of the amazing wedding cake and setting displays. The photos do not do the creations justice.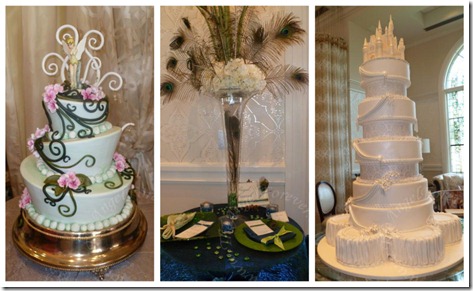 Then it was time to head into the wedding Pavilion. On the way into the building, that I had always longed to see from the monorail, we were able to see the new Disney Fairy Tale Weddings Alfred Angelo Gowns that are inspired by the Disney Princesses.
Once inside, we made sure to take some photos of us wearing our ears. Christina from Cutestkidever and I are sporting our ears together. Sitting with us were Debra from AFrugalFriend and Cathi from Planes, Trains & Taxi Cabs.
Soon it was time to sit back and learn about the new happenings with the Disney Parks. We would also be the first people to see the Cinderella inspired dress, hear from Carley Roney from The Knot and The Bump, meet David Tutera from My Fair Wedding, and witness an amazing Disney style wedding.
It was just the beginning of a magical evening. Many more photos to come soon care of the amazing photographers at Disney who captured the beauty of the evening.
Disclosure: Although we paid for our own trip to Disney World, we were given an incredible deal thanks to Disney. The sweet conference fee included 3 nights at the Grand Floridian, several meals for the entire family, 7 day park hoppers for everyone, conference/meals for me and some other items to take home. Also note that Disney never asked us to blog about this event. As a long time Disney fan it is my pleasure to share my experiences from the event.