If you have followed along with my blog for a while, you know that I am a huge Disney person. I basically grew up going to Walt Disney World, spent my honeymoon there, and have taken my children there multiple times in recent years. On our first trip to Walt Disney World with the kids in May of 2009, I worried about my oldest son. He was in kindergarten, but due to his low muscle tone he would have trouble walking for a long time and get exhausted. This would lead to anxiety and system overload that we did not understand at that time. This was several years and multiple trips before we confirmed that he is an Aspie. We rented a double stroller for the boys and brought a note with us. I had been told that we may want to use our stroller as a wheelchair on a day when NHL was struggling. What I did not realize at the time was that we were given a GAC – Guest Assistance Card along with a sign to put on the stroller for CMs to see. We only used the stroller parking option closer to a venue once. We never used the GAC for anything else because our son did well. Thanks to the Fast Pass system and way that we approached the lines he was able to cope.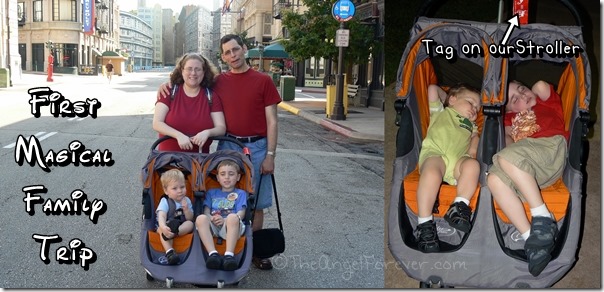 Not all individuals with Special Needs are able to do this. For many reasons, the lines, queues, crowds, and other items can be overwhelming to them. The GAC helps them to experience the magic of Disney in a way that they never dreamed possible. Then, this summer, we all heard about people that were trying to abuse the system. This meant that Disney took a look at the Guest Assistance Cards that are currently being used. Last week, rumors started to circulate about the new program that Disney will have for guests. Rather than wait for details, heated posts and more have been going around and around.
Saturday evening, I received a statement from Disney and want to share it with you in case you have not read it:
In our continued efforts to keep you in the loop of Disney experiences that touch families, we would like to share an upcoming change in the Guest Assistance Card.  Disney has an unwavering commitment to making our experiences accessible to all Guests.  After careful consideration, we will be replacing the Guest Assistance Card with the new Disability Access Service Card on Oct. 9 to create a more consistent experience for all our Guests while providing accommodations for Guests with disabilities. Until Oct. 9, we will continue to use Guest Assistance Cards. We look forward to sharing more information about the Disability Access Service Card as we get closer to implementation.

We know that you often share news from Disney with other moms so we have prepared the following questions and answers.

We appreciate your support and look forward to sending you more details as we get closer to October 9th.
In addition to this, some frequently asked questions were included:
How will the new Disney program work?
The Disability Access Service Card will offer Guests a return time for an attraction based on the current wait time. Guest Assistance Cards will continue to be in effect until Oct. 9. We look forward to sharing more information as we get closer to implementation.

Did Disney receive assistance in developing the Disability Access Service Card?

Yes, Disney is engaging disability groups, and Autism Speaks was instrumental in providing feedback as we developed this new process.

Why is Disney making these changes?
Given the increasing volume of requests Disney receives for special access to our attractions, we are changing our process beginning Oct. 9 so that it creates a more consistent experience for all our Guests while providing accommodations for Guests with disabilities.

Who will be eligible for a Disability Access Service Card?
Our goal is to accommodate Guests who aren't able to wait in a conventional queue environment due to a disability (including non-apparent disabilities).

Will Guests on wish trips also use Disability Access Service Cards?

No. Guests who are visiting through wish-granting organizations will have access through a separate program.

What should Guests do if they have concerns?
Guests should contact Guest Relations to discuss their assistance needs.
Changes are hard for people to accept, especially when all of the details are not available.  As the parent of a child on the autism spectrum, I have learned to roll with the punches and take everything one day at a time. I can not get bogged down with rumors, speculations, or here-say. Unfortunately, rumors are running rampant right now about the Disability Access Service Cards and we need to try to be patient and trust Disney.

Disclosure: As someone that went to previous Disney Social Media Mom Celebrations, I receive information from Disney. I was not asked to share, but wanted to because this topic is important for so may families.