It's time to jump around on my timeline from events at the Disney Social Media Moms Celebration to share something related to literacy, reading, and books. Nothing could fit in more perfectly than meeting NY Times Bestselling author Ridley Pearson. Since I signed up for his session on Saturday, I knew that Ellen and I would be front and center for his presentation. What I didn't know is something magical would happen before that.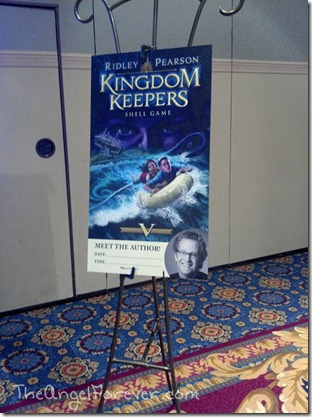 After the conference session on Friday, TechyDad and I met back up with my parents and the boys. Once back in the room, we debated what to do before the party in DinoLand at Animal Kingdom. We were told that we could head to the Animal Kingdom and exit the park to wait for the group while they finished setting up the area. This seemed like a good plan. On the way out of the Yacht Club to catch a bus to the Animal Kingdom, a person caught my eye. I shrugged it off until I got to the bus area and happened to bump into Ellen and her daughter. I told her that I was pretty sure I had just seen Ridley Pearson in the lobby, but was doubting myself.
After wandering around Animal Kingdom for a few hours, we waited outside the gates, for the rest of the families to arrive. I nudged Ellen and told her Ridley Pearson was walking in with everyone. This is when I mentioned something to my son and reminded him I was going to Mr. Pearson's session in the morning.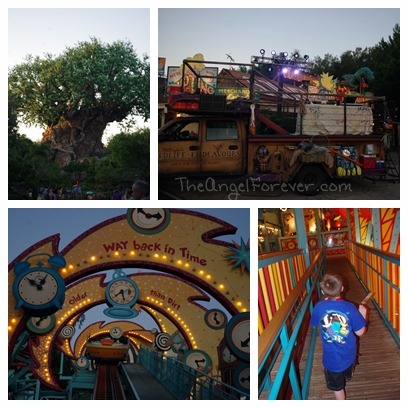 NHL was busy going on ride after ride before eating dinner. Thanks to this, I had to force him to stop to get at least a little something. NHL and I were at one of the then empty buffet lines when I noticed someone come over on my left. I peeked and noted that it was Ridley Pearson. I said hello and wanted to make sure he was Mr. Pearson. He said he was and then I mentioned I was going to his session the next day. Then, I turned things over to NHL. I mentioned that NHL was a fan of the Kingdom Keepers. Without missing a beat, Mr. Pearson started to talk to NHL. He asked him about his favorite part of the book. NHL explained that he loved the scene in Kingdom Keepers: Disney After Dark
when things happen in It's a Small World. This is when I knew that Ridley Pearson gets his audience. He made small talk with NHL about how that really happened and he liked it as well. FYI, video coming soon from the session about this scene.
The next morning before the session began, I thanked Mr. Pearson. Thanks to this encounter, NHL wants to get back to reading the Kingdom Keeper series. He was excited to let his teacher know that he had met the author and kept chatting all night about the Small World Ride chat. Yes, once again, Ridley Pearson showed how a little magic from him could inspire a reluctant reader to jump back into reading. While others were asking for autographs, I knew that I had to get one for my son (little did I know my almost five year old would be jealous of this – ooops). I even took photos to share with NHL later.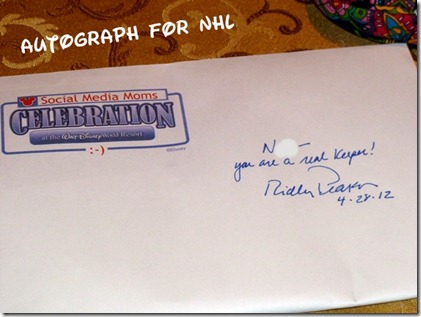 More about the session and tour of Epcot with Ridley Pearson coming soon. Have you ever met an author? Please feel free to share your experience below. What have you read recently? Please be sure to link up to your book posts in the comments below. Include something you read on your own, with a child, or someone else. Tuesday Tales are all about spreading the love for books.
Disclosure: Although we paid for our own trip to Disney World to attend the Disney Social Media Moms Celebration, we were given an incredible deal from Disney. Also note that Disney never asked us to blog about this event. As a long time Disney fan, it is my pleasure to share my experiences from the event. Meeting Ridley Pearson was just another BIG perk from the festivities. One Amazon Affiliate link is included in this post for the book mentioned. I will receive a percentage of money for the sale should you opt to buy any of the books through my links.