Right before Passover started on Monday, JSL and I went to pick up a few things at the library. JSL stopped to check out what will soon be their butterfly garden. Last year, he loved watching the butterflies fluttering around in the beautiful and colorful area.
Some gorgeous yellow flowers caught my eye and made me stop. I had to take photos: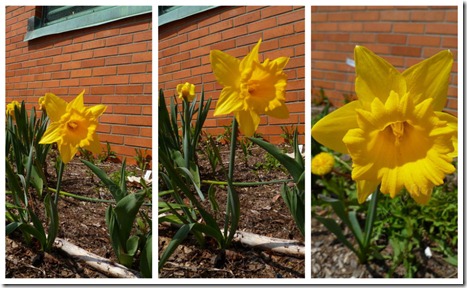 Yes, these gorgeous daffodils made me smile. I am not sure why, but daffodils have become a recent favorite of mine. We planted some a few years ago. They were amazing – until the neighborhood bunny family yanked them out of the group by the bulbs. Goodbye daffodils. I keep saying that I need to buy some daffodil and tulip bulbs to plant, but I never do. Guess I need to get on that one of these years.
So my question to you this week is inspired by these daffodils:
What has been your favorite floral find this spring and why?
_____________________________________________________________________________
Thanks to Kailani at An Island Life for starting this fun for Friday. Please be sure to head over to her blog to say hello and sign the linky there if you are participating.
Aloha #148