Growing up, I loved art class. I may not have been the best at drawing, but it was fun and helped me to relax. In elementary school, I would stress over my art work looking like my classmates. Middle school was a blur for a lot of reasons. High school changed things. My freshman Studio Art teacher was an amazing woman. She inspired me to be myself in my art. She told me not to worry about what others thought and enjoy.
Thanks to Ms. W, I continued on with art every year in high school. I took several classes that were on painting and, in my last year of high school, art, pottery, and sculpture filled the end of my day. Art classes were something that was a perk for me. I was lucky to go to a school that had a variety of options in high school. Then, in college, while working on my teaching degree, I took an Art & Learning course. This course was a lot of work, but oh so rewarding.
I remember studying different artists over the years during classes. My bedroom was decorated with Monet's Water Lilies and I adored it. Art appreciation continues to be part of my life. JSL's nursery school class recently completed a unit on artists. They studied Seurat (one of my favorites thanks to his dots) and here is JSL's version of Mondrian: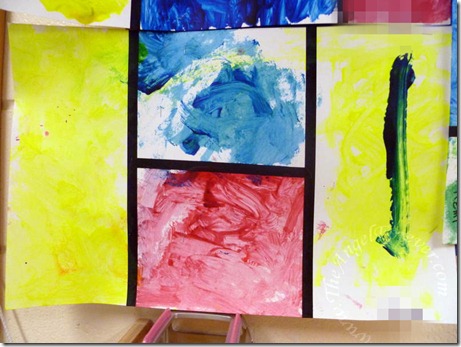 So my question to you this week is inspired by my love of art:
Who is your favorite artist and why?
____________________________________________________________________________
Thanks to Kailani at An Island Life for starting this fun for Friday. Please be sure to head over to her blog to say hello and sign the linky there if you are participating.
Aloha #150