It is no secret that my boys love technology. They are not afraid to jump on a computer and they LOVE my iPod. Since I inherited the iPod from my parents, I have been trying to figure out some good educational applications for JSL. At almost four, JSL wants to do things like his big brother, but he needs learning tools that are developmentally appropriate.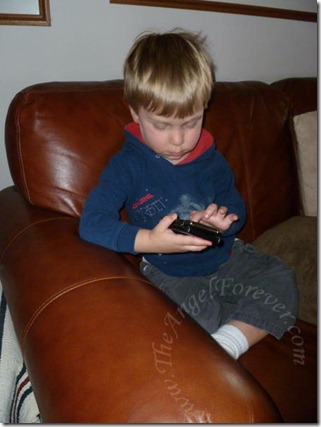 Yes, we have games for the kids. My favorite items are still the ones that focus on some area of learning in a fun way where the boys do not realize it is happening. I guess the teacher in me will always be present. As part of the Family Review Network, I was recently I was asked to review Letter Buddies AlphaBooks by Cavallo Media. Here is the video that I previewed that made me know it was something I wanted to try with my preschooler:
Available in the iTunes Store for $2.99. Released March 18, 2011 in the Education category. Compatible with iPhone, iPod touch, and also an iPad version.
What We Thought of Letter Buddies AlphaBooks:
As a certified reading teacher, I was very intrigued with an application for younger children that begins to introduce early reading skills. When I put Letter Buddies AlphaBooks onto the iPod, JSL and I sat down on the couch to check it out together. We decided to try out the letter F first. JSL receives speech therapy, and this is the sound that he is working on. Within seconds the iPod was pulled out of my hand and I sat and watched my three year old son participate in an interactive letter lesson.
We were introduced to Furry F and asked if we knew any words that start with the letter F. JSL sat there and said a few of them without me prompting him. Yes, at three he was responding to the cues of the application. Then I watched as the flashcard like photos and words came onto the screen.
A fan was shown. JSL would say it, move to the next screen where Furry F was with the Fan having his fur blown. The screen said "I like the fan." JSL repeated this carefully looking at the words and getting his proper sounds out.
This repeated for five more words introduced by Furry F including: flower, feather, fire, fork, and fish.
While waiting for his speech lesson, JSL continued to explore other letters. Just looking at the menu he was starting to recognize his letters. The start sounds and word/letter recognition was amazing. JSL was actively engaged and would have kept going, but it was time for his speech lesson.
Of course, JSL HAD to show his teacher what he was trying. She was intrigued by the application and watched as JSL repeated the Furry F section. We both admired how this could be another great tool to use with JSL to reinforce start sounds with words. Of course, the reading teacher in me also knew he was really homing in on pre-reading skills as well. It was a win-win application.
JSL continues to ask to use Letter Buddies AlphaBooks to this day. He adores "chatting" with the characters and picking different books. I would recommend this to others looking for an interactive early literacy application for the preschool set.
Disclosure: This post was written for Family Review Network, and Cavallo Media who supplied me with a complimentary code for my honest review. No other compensation was given and all opinions are 100% mine.