The world of blogging has opened up the world to me. I have met amazing people online, at conferences, and even locally. The reality is that the internet connects people that may have never met under normal circumstances.
Case in point, I recently had the opportunity to meet the Publisher of Genesee Valley Parent Magazine based out of Rochester, NY.
Barbara Melynk started her magazine 16 years ago and it is still going strong. The way we met is a long story. The in-person meet up was thanks to a blogger outreach connecting people from Western NY to the Capital District area. Although our meeting was short, Barbara was a wealth of information and a very classy woman. She has definitely inspired us. Barbara's magazine also had an article called Her Words: Moms of Rochester Share Their Words of Wisdom Across The Digital Wires. The article shows how three bloggers in that area are digitally connected via their blogs. A great read for when you have time.
Here is a photo of almost everyone in the group that was at the informative meeting with Barbara.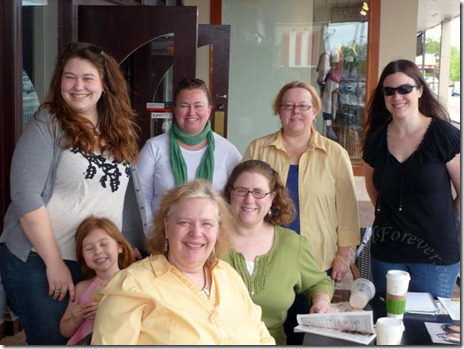 Thank you ladies for a wonderful mid-afternoon filled with networking and lots of laughs.
So my question to you this week:
Who is someone that you have met online that you would love to meet in real life and why?
Pssst – be sure to check out my Pirates of the Caribbean: On Stranger Tides giveaway.
____________________________________________________________________________
Thanks to Kailani at An Island Life for starting this fun for Friday. Please be sure to head over to her blog to say hello and sign the linky there if you are participating.
Aloha #152