Once upon a time in a galaxy far, far away I was a teacher. I wore many different hats as a teacher. Having three areas of certification, I am able to teach a lot of areas. One year, the school I worked for needed a sixth grade language arts teacher. I jumped at the opportunity. That meant I was able to work on combining language arts and science together. It was tricky, but able to be accomplished with projects and technology integration.
What I would have loved would have been more trade books (that's teacher talk for novels used in a classroom) to read with the kids. Luckily, more authors are now writing fiction books for children with a scientific twist. A while back, Sterling Children's Books sent me one of their Doyle and Fossey, Science Detective books by Michele Torrey.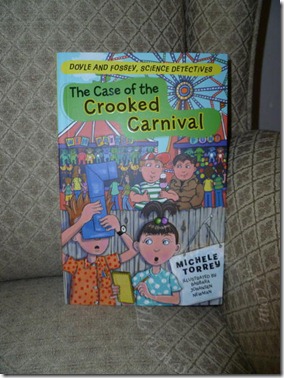 I had never heard of this series, so I decided to read it solo before trying it with my reluctant chapter book reading second grader.
More about The Case of the Crooked Carnival:
From Sterling – Science super-sleuths Drake Doyle and Nell Fossey are back—this time in a never-before-published addition to the popular series! They've got an exciting collection of cases, too:  Are ghosts and ghouls keeping Edgar Glum awake? Have aliens invaded Mossy Swamp?  What's the crooked game everyone's losing at the carnival? And why is the town bridge going bananas? Kids will have fun following the clues—and learning about such real scientific principles as amplification, ecosystems, magnetic fields, and more.  Plus, budding Doyles and Fosseys will find actual experiments to try!
Michele Torrey holds a degree in microbiology and immunology. In addition to the Doyle & Fossey mysteries she has written the critically acclaimed Voyage of Midnight (Knopf  Books for Young Readers, 2006), To the Edge of the World (Knopf Books for Young Readers, 2003), and many other books for young people. Barbara Johansen Newman wrote and illustrated Sterling's critically praised Tex & Sugar (2007). School Library Journal noted that her "Rich, vibrant illustrations, like an explosion of color, capture the sights of the city, while meticulous detail depicts the all-animal cast and a wide range of expressions." Her work has been featured in national magazines, newspapers, calendars, cards, and more than a dozen children's books. 
The Case of the Crooked Carnival – Written by Michele Torrey – Illustrated by Barbara Johansen Newman – Sterling Children's Books– June 2010 – ISBN 978-1-4027-4965-0 – $6.95 – Ages 9-12 – 96 pages
What I Thought:
As I sat devouring The Case of the Crooked Carnival, I kept thinking about how perfect it would have been to use in a classroom. Within the language arts curriculum, a teacher could use it in a mystery genre study. There were many opportunities to make predictions and utilize a dialogue journal. My teacher brain kept running a mile a minute thinking about different items. Of course, the science teacher in me adored the scientific details within the book. The four mysteries incorporated a great deal of science facts for students of all ages. Doyle and Fossey take the readers into their world and carefully explain how they used their knowledge of science principals to solve each case.
The book also had a section after the cases about creating your own lab, describing the Scientific Method, and five experiments to try on your own. I loved how the Michele Torrey explained to young scientists the items that are contained in a good lab notebook. Once again, this could be combined with the start of more formalized science labs within a curriculum. Here are some view from within The Case of the Crooked Carnival: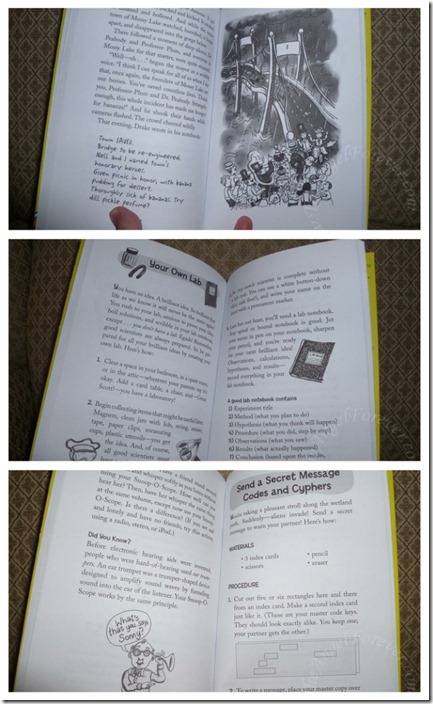 As I was looking online, I was thrilled to see that there are also items for educators to use with the Doyle and Fossey books. Michele Torrey has an Educator's Corner that includes teacher guides. The guide for The Case of the Crooked Carnival is 40 pages and includes:
Character Analyses
Mystery Genre – antagonist/protagonist
Alliteration
Read-aloud connections
Vocabulary
Science Study with a lot of connectors to the reading extension on the science – Sound, Amplification, Ecosystems, Magnets, and Resonance.
9 Reproducible sheets to use with students
I can not wait to read this book with my son. He loves science and solving mysteries. I think this will be a great read for over the summer so we can add some science enrichment activities and do our own lab experiments. Of course, I also want to get more of the Doyle and Fossey books – lucky for us there are five additional titles to select from. I definitely recommend these books to others and will be gifting them in the future.
What have you read recently? Please be sure to link up to your Book Posts, and/or leave a comment below. Include something you read on your own, with a child or someone else. Tuesday Tales are all about spreading the love for books.
Disclosure: I received this book complimentary of Sterling Children's Books in order to facilitate this review. No other compensation was given. The opinions expressed in the review are my own. One widget within the review is for my Amazon Affiliate where I will receive a percentage of money for the sale of the books should you opt to buy the book mentioned.