The summer is here and there is a constant stream of movies starting in the theaters. I have noticed a lot of them are geared for families with younger children. One of the movies coming out next Friday, July 8, 2011 is ZooKeeper featuring Kevin James.
Here is a trailer about the movie:
More about the movie from the PR agency:
In Zookeeper, the animals at the Franklin Park Zoo love their kindhearted caretaker, Griffin Keyes (Kevin James). Finding himself more comfortable with a lion than a lady, Griffin decides the only way to get a girl in his life is to leave the zoo and find a more glamorous job. The animals, in a panic, decide to break their time-honored code of silence and reveal their biggest secret: they can talk! To keep Griffin from leaving, they decide to teach him the rules of courtship – animal style. The film also stars Rosario Dawson and Leslie Bibb and features the voices of Cher, Nick Nolte, Adam Sandler, and Sylvester Stallone.

Rated PG for some rude and suggestive humor, and language.
If you live in the Capital District area and would like the opportunity to go to a screening of ZooKeeper, here is your chance. The first 40 people to go to GOFOBO.com will receive the opportunity for two people to go to a screening at Colonie Center on July 6, 2011. Here is the information that you will need. Remember these passes will go quickly, so do not wait too long.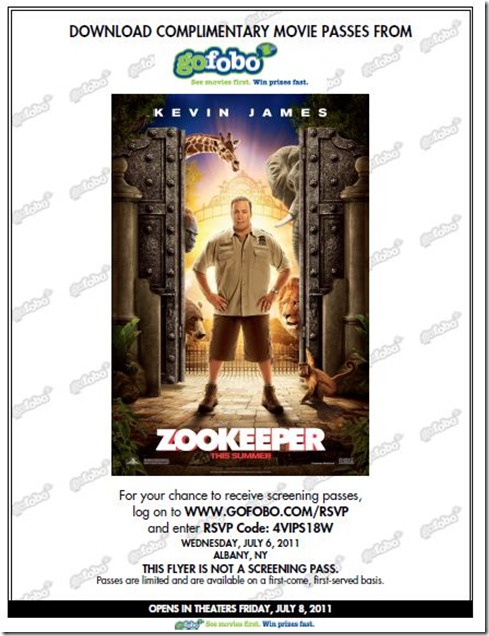 If you get the tickets and go, please let me know. We may also attend. I would also love to know what you think after seeing the movie. I have a feeling this will be a movie that both of my boys will enjoy
Disclosure: I was asked by the PR company from ZooKeeper to share this opportunity with my local readers. I received no compensation for doing so. I was told that I could print passes for my family and we hope to attend the screening as well.