TechyDad's birthday was on Sunday and we were trying to figure out what to do for his special day. I asked if he wanted to see a movie. More specifically, I mentioned going to see Guardians of the Galaxy. I had heard that, while it was rated PG-13, it would probably be a nice option for our family. TechyDad searched online for a movie time and we went to the mall to get tickets and then have lunch.
When we went to get our tickets at this Regal Cinema location, we realized that there was a snaffu with the online movie guide that TechyDad had viewed. We did not want to see a 3D version of the movie because JSL is not a fan. While we thought that it was a regular showing, it was not. That time was actually for a viewing of Guardians for the Galaxy in an RPX theater. We explained to the person at the ticket counter what happened and told her we would regroup and walked away.
Why did we leave?
There were a few reasons. The cost of the RPX was significantly more, but that was not the big issue in my mind. The sensory experience was something that concerned me. I did not want to ruin TechyDad's birthday by starting the movie and leaving part way through. Did I know that it would bother NHL? No, I did not know how he would react. At the same time, I was aware that some movies have been too loud and bothered him though he has never had to leave before. Coping strategies have greatly improved as NHL has gotten older. Still, TechyDad and I were unsure about it and felt it was best to regroup.
As we stood off to the side looking online for options at other Regal Cinemas in the area, something happened that we never expected. Another person from Regal asked us to go back to the counter. The woman who had been helping us felt horrible that we left and wanted to make sure we saw the movie for TechyDad's birthday. Jennifer was beyond amazing and made our day. As she was assisting us, I explained that it was not simply the increased cost of the movie. I told her that our son has Asperger's and that the bigger screen and better sound system may be too much sensory overload for him. She assured me that IF it was a problem we could simply see someone in the theater and they would help us to see another movie, or we could get our money back. She asked if we would please give it a try and hopefully become fans of the RPX technology. We agreed and thanked her and I noted it on Twitter as well.
After lunch, we made our way to the RPX theater. It was beautiful. It really reminded me of a slight variation of an IMAX theater. We got seats on a side in case we needed to move. When the previews came on, I held my breath. NHL jumped back and immediately held his ears. I feared we would be leaving shortly.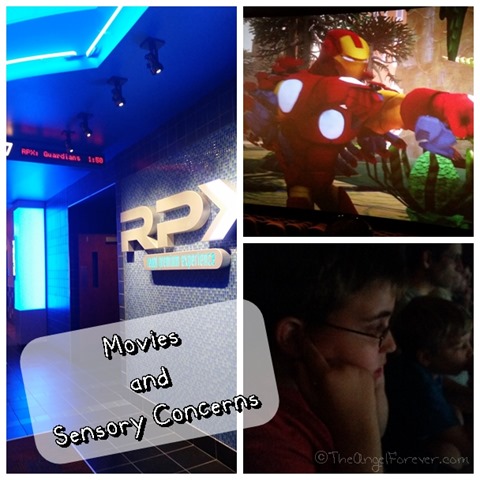 When the actual movie began, I watched NHL out of the corner of my eye. Slowly he eased back into his chair and his hands dropped down to his side. Yes, the actual movie sound was much less intense than the previews has been. I sat with a smile on my face and enjoyed the movie along with the boys and TechyDad. Thanks to a kind person at Regal Cinemas, our birthday celebration was not ruined by our mistake and NHL had another major milestone. He plowed through something that was overwhelming, but coped to reap the reward.
If you have children on the autism spectrum or with sensory concerns, how do they do at the movies? I would love to know if you have ever been to an RPX showing and if you noticed the sound variation with previews compared to the regular movie.