Thursday morning, I was not sure what I was going to do with the boys. Then, I saw something in my Google Feed Reader from A Frugal Friend. Thanks to Debra, I realized that Michael's is offering a Passport to Fun Kid's Event all summer long. I know I had received e-mails about it, but had likely ignored them. So we ran out of the house to Michael's.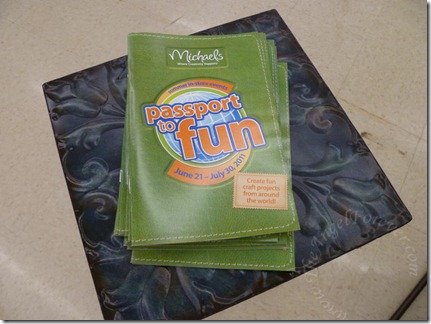 The Passport to Fun book looks amazing. It is filled with great items about each of the places that you will visit during an activity at Michael's this summer. Coming up this weekend is one for the United States on July 2 for Independence Day.
So where did we visit? We went to Canada. Quite fitting since today is Canada Day. Happy Canada Day to all of my friends to the north.
You probably want to know what they made, eh? Here are the Canadian inspired crafts that were shown to us: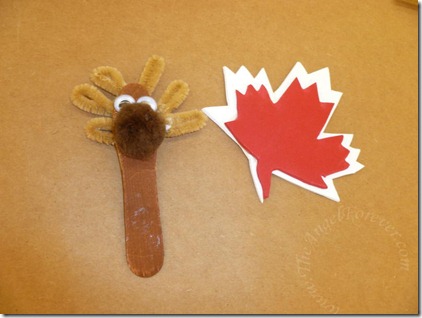 The boys had a great time. The craft itself was cute and should have been really easy to do, but the glue was not behaving. Luckily we were patient and got the pipe cleaner to stay put for the Moose antlers.
Here's the page from the Passport book about Canada and NHL's finished project:
The remaining events are always 11am – 2pm:
U.S.A. – Saturday, July 2
Italy – Tuesday, July 5
Australia – Thursday, July 7
India – Saturday, July 9
Russia – Tuesday, July 12
France – Thursday, July 14
United Kingdom, July 16
Japan – Tuesday, July 19
Greece – Thursday, July 21
Mexico – Saturday, July 23
China – Tuesday, July 26
South Africa – Thurday July 28
Brazil – Saturday, July 30
We missed the ones for Sweden, Germany, Egypt, and Bahamas. I know we will try to catch more of these events and others taking place this summer. Of course, while at Michael's we picked up something to do on our own that was inspired by a craft at the Library's event earlier in the week. More to come on that tomorrow.
Pssst….I thought this was cool and wanted to share. I have been given nothing by Michael's since this is a free event for all. Just a big craft fan and love their store. For more on the summer program you can go –> here!
So my question for you this week:
What country would you have added to the Passport and why?
Pssst . . . be sure to stop by TechyDad's Outback Steakhouse $45 giveaway.
____________________________________________________________________________
Thanks to Kailani at An Island Life for starting this fun for Friday. Please be sure to head over to her blog to say hello and sign the linky there if you are participating.
Aloha #158