Rain on a summer day earlier this week left me wondering what I was going to do with the boys. I had some projects to work on, but wanted them to try something fun and different. The boys wanted to use some funny smelling sculpting material on the table, but I was not in the mood for that mess. Suddenly, I recalled that I had some Wikki Stix. Do you remember those? This is what I am talking about:
What are Wikki Stix? From their website: "Wikki Stix are made of hand-knitting yarn enhanced with a microcrystalline food-grade, non-toxic wax, the kind used in bubble gum and lipstick. They do not contain latex, gluten, nor peanut or other nut oils or byproducts which makes them an ideal creative activity toy for children with allergies." If you want to learn more, they have lots of details on the what are Wikki Stix page.
Several years ago, I had gotten a Curious George Wikki Stix book to use with NHL. At the time, he was receiving occupational therapy and this was to work on fine motor skills. The beauty of Wikki Stix, they allow kids to use their imagination to play, create, and even practice letter and shape formation. The Wikki Stix above were donated to us by a friend who had them in her classroom and never used them.

For one reason or another, the Curious George book was never used, but I pulled it out the other day. JSL immediately grabbed it and wanted to see what was inside (see above). Here is JSL playing with a Wikki guy that we made together: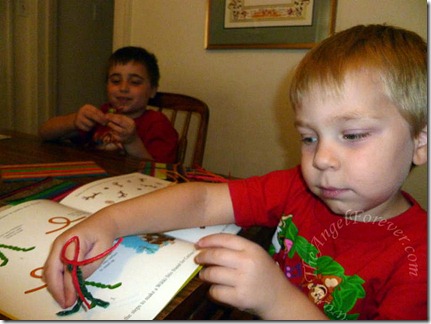 Of course, if one child is using something new and exciting, the other is bound to want to try it out. Since NHL was jealous, I went on a hunt for the other package so both of the boys could experiment with the Wikki Stix. NHL immediately made a flower for me:
JSL played for well over an hour and then wanted to move on. He's four and was tired, but NHL played on and kept coming back to the new found favorite over and over.
The best part of the day was seeing the smiles on their faces, not having a mess to clean up, and just tossing them away like this:
Yes, the boys have used them multiple times again and keep coming up with new games and things to do with them. NHL has even gone to the Wikki Stix website with me and looked at their how to videos to see some amazing creations. There are also dot-to-dot and other crafts to download and use with our Wikki Stix. I am in love! We will probably be looking to buy more because we are all having such fun with them.
My questions to you this week:
Have you ever used Wikki Stix as a child or with your children? What would you make with them if given the opportunity to play?
Disclosure: All items were purchased by us or given to us by a friend. I was not asked to write this post and just wanted to share an amazing child friendly activity for children of a variety of ages.
____________________________________________________________________________
Thanks to Kailani at An Island Life for starting this fun for Friday. Please be sure to head over to her blog to say hello and sign the linky there if you are participating.
Aloha #161