Being the mother of two little boys can be a challenge at times. I fully admit, I am not up to speed on my super heroes. As a child of the 80's, I am well versed in He-Man. While I played with my Cabbage Patch Kids, Care Bears, and Barbies, my younger brother had quite the collection of He-Man toys. Ah, the memories.
My boys are currently into super heroes thanks to TechyDad. When they are not pretending to be pirates or Toy Story/Disney characters, they switch to this other side. You know, the one that I am not too familiar with. Sure I know the names and can pick them out in a photo, but that is about all.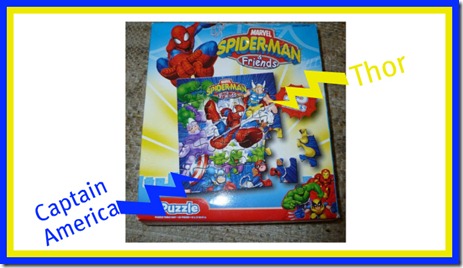 I seriously need some tutoring in super heroes and their personalities/powers. Some of the super heroes that I hear about include:
Hulk
Spiderman
Hawkeye
Captain America (see JSL's question from the other day)
Thor
Iron Man
Superman
Batman
The other day, while playing at Nana and Papa's house, the boys had out our old Fisher-Price Construx.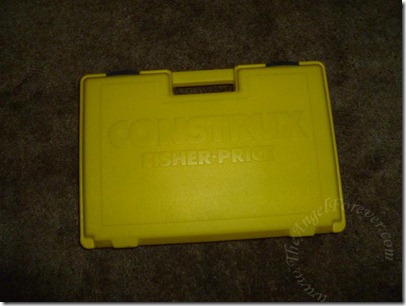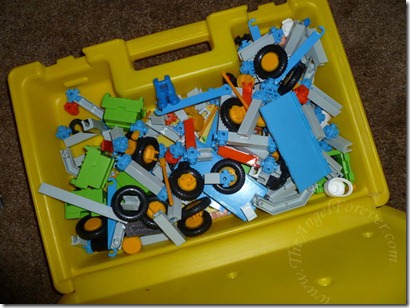 While we used to make cars, buildings, and the like – my boys made something completely different. Check this out: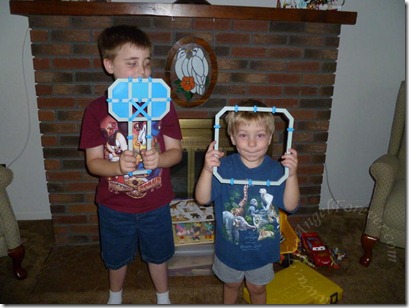 Yes, the creativity was there. NHL made Thor's hammer and Captain America's shield. The two of them ran around for quite some time pretending to be the characters from The Avengers.
So where do I start? Are there Cliff Notes for this sort of thing? Seriously, I could certainly use them.