Back to school in our area does not officially begin until after Labor Day. The day after Labor Day, NHL goes back to school. He will be a third grader this year. It is a big day for him because he has never done a back to school in this building yet. Last year, NHL switched schools at the end of the year. He did this with grace and adored the new school.
For the first time since JSL was born, I will have me time five days a week. JSL will be in preschool Monday to Friday. For 20 hours each week I will be able to devote time to my new business, my writing, cleaning, and ME! Yes, I will miss the boys, but it will be nice to get things accomplished without interruptions. Of course, next year when JSL heads to kindergarten for full days – I will likely be in tears.
As a former teacher, it is strange not sitting at home working on seating charts, lesson plans, and letters to parents and students. It is still nerve wracking to be on the flip side and wonder how the school year will be for both of my boys.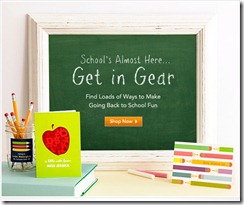 Back to school season is the perfect time to start thinking about items for the teachers in your life. Think about it, they spend a large amount of time in the classroom with your child. The reality is a school family is formed for those 10 months. I know during this time I would look for cards to use to write notes to parents, or for thank you notes when people would volunteer in my room or go on a fieldtrip with us.
So what is a back to school milestone that you remember from your childhood, as a teacher, or with your own children?
Now please excuse me, I am off to make more magical memories before Summer 2011 is over and the 2011-2012 school year rush begins. Oh and when I have time, I will be checking out the lunch notes and other items to surprise kids with from Tiny Prints.

Disclosure: I wrote this post as part of a Global Influence campaign for Tiny Prints. By sharing this information with my readers, I will also receive a Tiny Prints gift code to thank me for my participation. No other compensation has been given.