When I was teaching, I was always reading books. Time was spent keeping up on school related items, reading trade books that my students were interested in, and of course reading books for lesson planning. During that period of my life, I rarely had time to read books for pleasure. Yes, I enjoyed the books I was reading – but let's be honest it was not my first choice.
From the moment my kids were born, books were a huge part of their lives. We have a rather large collection of books. There are books in the book case upstairs, books overflowing in the small book case in the boys room, books all over the living room, and a pile of books next to my bed. Yes, there is rarely a place you go in our house without seeing reading material of some kind.
NHL is now able to read books on his own. This summer was huge for him since he has learned to like tackling chapter books with independent reading. Of course, I can not read all of the books that he is, but try to catch up on some of them to be able to chat with him and ask questions. My dream is to begin a family read aloud of the Harry Potter series since NHL is getting into them. Although NHL loves to read, time becomes an issue. As school begins, time will be crunched even more. I believe once homework is accomplished, reading will be needed to earn time for gaming. I think I will be working on a chart to keep track of this since it will make more sense to him.
JSL adores sitting and "reading" books on his own. He loves to pull out a pile of picture books from our library and sit on the couch to have someone read to him. NHL, TechyDad, and I all read to him and he adores this special time with each of us. At 4, he really wants to learn to read and we are going to work on pre-reading skills at home in the weeks and months ahead.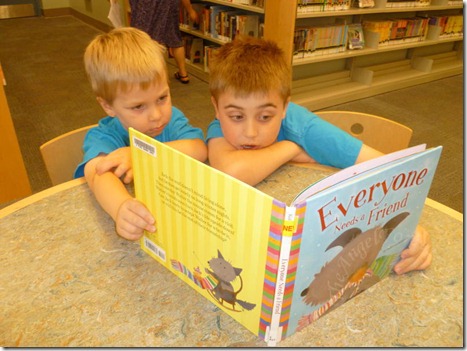 Thanks to reading with the kids so much, I still am balancing the art of reading books for me. During the day, it is hard with work that has to get done. At night, I find that if I settle into bed to read – sleep seems to catch me.
So fess up, how do you find time to read things that you enjoy?
Of course, since this is Tuesday Tales, I must ask the usual question. What have you read recently? Please be sure to link up to your Book Posts, and/or leave a comment below. Include something you read on your own, with a child or someone else. Tuesday Tales are all about spreading the love for books.