Dear JSL,
On Friday, I decided to head to Simchat Torah services with you and Daddy. To add some fun and excitement to the morning, I fell in the shower twice. Even though I knew I was going to hurt later, I continued to get dressed. I put on my skirt, stockings, and new heels.
Toward the end of the service, you were getting a bit antsy.  You sat on the floor and started to pat my leg to make sure I was not hurt after my fall. You noticed something strange. My "skin" was moving around. Then you pinched it and it pulled way up like this: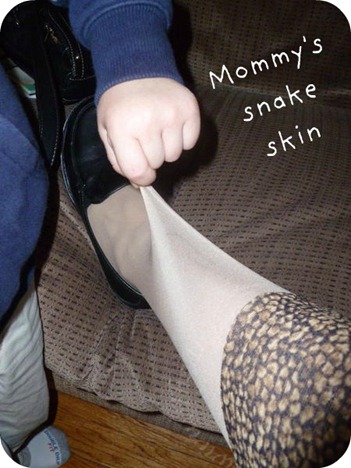 You were stunned and a bit confused. Daddy, Mimi, and Aunt S sat and laughed as you tried to figure it out. Then, we watched as you pulled up your own pant leg. You were pinching your own skin to see if you could replicate what was happening on my leg. After this, you went back to my leg and seemed to proclaim that it must have been thanks to my getting hurt.
I had to stop you at one point. You were following my stockings way up my leg. When you got to my knees, you caught sight of something in my skirt. You tried to lift my skirt to see what it was. Of course, I stopped you. You protested rather loudly, "But Mommy I see something up there!"  I am pretty sure you saw my slip and it was not something you recognized. We diverted your attention and eventually made it home.
Once we got here, you watched me peel my skin off – the great stocking mystery was solved. Watching your learn and laugh was priceless.
Love,
Mommy
__________________
If you want to participate in Dear Kid Saturday, head on over to Cutest Kid Ever by clicking on the button below.