Our doctor has been telling us to us a cool mist humidifier with the boys to help them when they are sick. For years, we have tried humidifier after humidifier and they have never worked. Each time the doctor tells is, we have to remind him that we are THE ones that are the joke of of the humidifier industry.
A while ago, my Aunt T needed to downsize a humidifier to one that she would be able to refill on her own. She knew that we were having issues and gave it to us. We had never set it up until Sunday. When I got back home, the little guy was miserable. So TechyDad hauled out the humidifier and tested it out in our bathroom. Check out what happened.
Why yes, it actually works. Not only is cool mist coming out of the humidifier, but the water level goes down after a short amount of time. So now with any luck, we can set this up with the boys for tonight to help the little guy who is so stuffed up. For now, JSL is intrigued with the "smoke" that is coming out of the machine.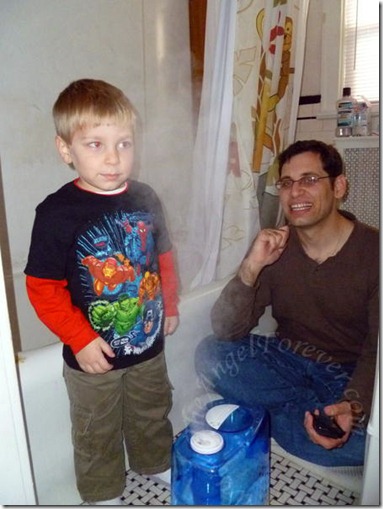 Do you have a cool mist humidifier? I would love to know what you have that works. We may purchase another for use in a different room.