Growing up, we had one main song that we heard for Chanukah. It was the dreidel song that everyone knew. Of course, our Hebrew School teachers introduced us to others, but they were a bit boring. These days, we are lucky to have many more amazing options.
Thanks to Waldmania! my family was introduced to The Mama Doni Band when they released the Shabbat Shaboom CD in the spring. Now my family is rocking out to a classic Chanukah CD from Mama Doni called Chanukah Fever.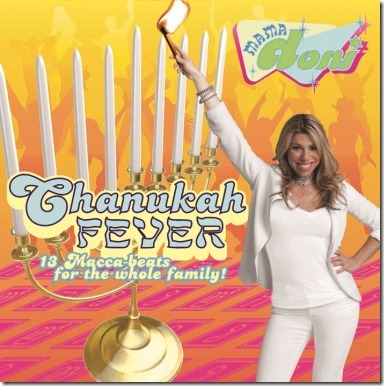 About Chanukah Fever:
Chanukah Fever contains 14 songs by Doni Zasloff Thomas (Mama Doni) that show off her love for embracing Judaism, holidays, and traditions. She uses words and song to teach lessons while exposing families to new types of music. Doni blends her musical talent with reggae, rock, disco, Latin, klezmer, and more. The topics of the songs include latkes, dreidels, Yiddish expressions, and a lot of humor.
Intro
Chanukah Fever
Latke Man
Honey, This Ain't Money!
The Legend of Sour Cream vs Applesauce
The Funky Gold Menorah
Bubbie's Mi Yimalel
Eight
A Land Called Sufganiyot
Dear Hanukah Harry,
Mac A. Bee
I Say Chanukah (You Say Hanukah)
La Vida Dreidel
Ma-oz Tzur Finale
Thanks to YouTube, I can also share the "Chanukah Fever" video so you can hear what at least one of the songs is like. Here is The Mama Doni Band with "Chanukah Fever" – get ready to dance!
What We Thought:
To say that we loved this CD would be an understatement. The weekend that we received it, it stayed in my car and we drove around listening to it. Within a few listens, the kids were singing along. TechyDad and I could not help laughing and loved how it integrated traditions, Hebrew/Yiddish, and more. NHL is eight and knew some of the items from Hebrew School so it gave us some fun items to chat about. Even JSL, 4, loved rocking out to the catchy tunes.
I think my favorite song on the CD is "I Say Chanukah (You Say Hanukah)" because it pokes fun at the need to use the chhhhh (pretend you are trying to clear your throat) sound. It isn't every day that words like Chanukah, l'chaim, chupah, and tuchus. I literally had tears in my eyes thanks to reading the words to this song.
I'm not sure if the boys have an absolute favorite since they enjoy the entire CD. Just the other day, NHL randomly started belting out "The Legend of Sour Cream Vs. Applesauce" while riding to school without the music on. I am sure that this CD will be played a lot in the upcoming weeks as we get ready for the Festival of Lights and try to keep family traditions alive.
For my local readers, The Mama Doni Band will be in town this weekend. On Sunday, December 4 they will have a concert at Congregation Agudat Achim in Schenectady, NY. For additional concert dates, head over to The Mama Doni Band Facebook page for updates.
Giveaway:
Thanks to Waldmania!, one lucky reader will have a chance to win their own copy of Chanukah Fever.
Rules for Giveaway:
MAIN RULE – Which song from Chanukah Fever are you most excited to share with your family and why?

The following Bonus Entries may also be done. Please be sure to leave separate comments for each that you complete below to make sure you get the right number of entries.

1 Bonus Entry – Follow  TheAngelForever on Twitter
1 Bonus Entry – Tweet the following about the giveaway (May be done three times a day, but at least an hour between each Tweet):  Enter to #win a @MamaDoni Chanukah Fever CD from @TheAngelForever http://bit.ly/rF7JNu #Giveaways #Chanukah
2 Bonus Entries – Stop by The Angel Forever on Facebook to say hello and leave me a comment on a status message. Let me know you have done so here.
1 Bonus Entry – Subscribe to my RSS feed (or let me know if you already are) in a separate comment.
1 Bonus Entry – Leave a comment on any of my non-giveaway posts from the months of November/December. Leave a comment here to let me know which one. This Bonus entry may be done twice per day.
3 Bonus Entries – Add my blog button to your website and/or add me to your blogroll. Be sure to leave a link with the location.
1 Bonus Entry – Head over to TechyDad's blog and say hello to him. Let me know where you posted a comment. May be done once a day.

To enter, please follow the rules above within the comment section. Contest starts today December 1, 2011 and ends at 10:59 EST on December 11, 2011. You do not have to be a blogger to enter, but must leave a valid e-mail address for me to contact you for mailing address once the giveaway is over. I will select the winner using random.org and contact you via e-mail. You will have 48 hours to claim the prize. If there is no response, another winner will be selected. Open to US and Canada residents only.

Disclosure: This review and giveaway was made possible by Waldmania!. They provided me with the Chanukah Fever CD to facilitate this review. The opinions of this review are mine and I received no other compensation.