Dear NHL and JSL,
Today is a really big day. This afternoon, we are finally getting bunk beds for the two of you. We offered to let you each have your own room, but neither of you wanted to be alone. Since we can not fit two twin beds into the space, we had to make the bedding go upward.
We have spent the last two weeks going around looking at different options. We fell in love with a set of twin over twin bunks at Raymour & Flanigan. Then, we had to make the choice between the darker and lighter woods.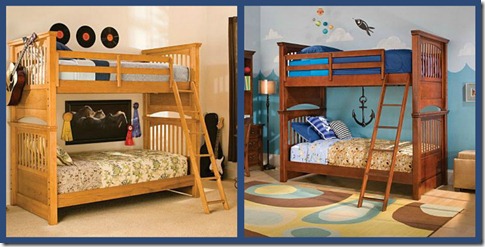 I think the two of you liked the darker wood option for only one reason. You adored the pirate bedding and space items within the decorating. We explained to you that none of those items come with the furniture. Thursday night, we went to the store and a very patient man named Michael at Raymour & Flanigan helped us to finalize our purchase. Much to our surprise, there were still slots for delivery and set up Saturday.
This morning, we will be working on your room to get ready for the delivery truck. NHL, your bed mattress will be moving to the bunk bed, but the box spring and frame need to be stored. Then, you will be the new owner of the top bunk.
JSL, this will be a big milestone for you. You are finally getting a big boy bed. Your toddler bed, and old crib, will likely be given away or sold. When I took the photos of your room, my heart skipped a beat. Suddenly it hit me that my baby is growing up way too quickly. I have a feeling you are going to love your new bed, and hope that it will be more comfortable for you to sleep the entire night.
No doubt that there will be more tears when we put everything away, but it is the right thing to do. The two of you need this change and it will create many new memories for the two of you as brothers. Daddy and I wish you many sweet dreams in your new bunk beds.
Love,
Mommy
_______________________________________
If you want to participate in Dear Kid Saturday, head on over to Cutest Kid Ever by clicking on the button below.