Dear JSL,
This past week was your turn to be the Star of the Week in your class. You were only the third child and first boy, so we were making things up as we went along. Last weekend, we had the sheet home from school with what we needed to send in. First, we had to fill out the All About Me page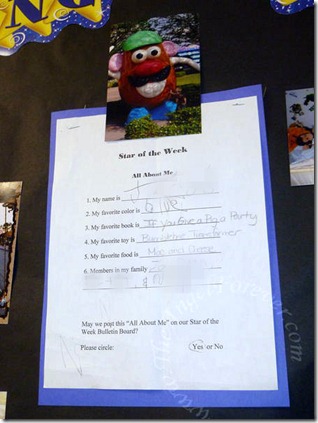 Name – JSL
Favorite color – blue
Favorite book – If You Give a Pig a Party
Favorite toy – Bumblebee Transformer
Favorite food – Mac and Cheese
Members in my family – JL, B, and NHL
Then, you had a bag to put a few items for the week in. You needed something that God made and we picked a feather from Whiskers. Your favorite book which I went in to read to the class on Wednesday, and three toys. The toys had to stay for the week, so this was a tough decision. In the end, you picked Bumblebee, a Buzz Lightyear on his ship, and Pirate Stitch. The last item was to include 12 photos for the bulletin board (featured on Wordless Wednesday). The two of us went through a bunch of photos and made a folder. Then we worked on narrowing it down to the 12. You finally picked these out to share with everyone.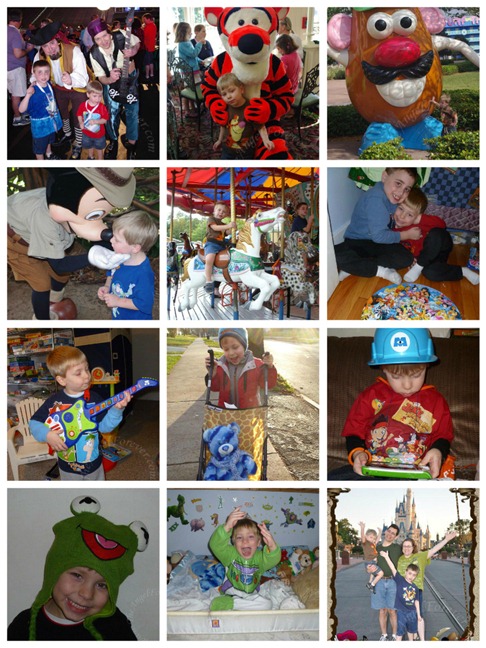 On Tuesday, you shared your photos and feather with the kids in your class. Wednesday, I went in to read your favorite story, and on Friday you shared the rest of your special toys. It was a fun and busy week. I was so proud of how much you helped to work on this project and heard that you did a great job sharing. You are growing up so quickly and I am so proud of you.
Love,
Mommy