The title pretty much explains it all. Last week, TechyDad stopped on his way home from work to pick up some dinner because it was one of those nights. We opted for some subs. I was really in the mood for some grilled chicken and ordered that. As we were eating our dinner, I noticed a medium length hair of a color that is not mine sticking out of my sandwich.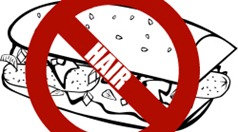 Insert gagging noises, expressions of horror, and rage.
That was the end of my meal since there was no way I was eating something that was served to me with an unknown hair within it. TechyDad called the store and was told he could go back in for a new sandwich and see the manager. Oh sure, just what we want to do so late on one of the coldest nights of the year with two kids that need to go to bed soon. NOPE, I was not taking that as an answer. I decided to call and ask to talk to the manager. The manager came onto the phone and blew me away with the cluelessness. She did not get how bad this situation was, offered no solution, and certainly NEVER said she was sorry. The next morning, I went to the website of the main company since I did not have a way to get in touch with the local owner. This is what I wrote to them:
My husband decided to stop on his way home to get subs for dinner to take home. He ordered a roasted chicken and veggie patty. As I was eating mine, something caught my eye. A hair was embedded in my sandwich that was clearly NOT mine. That was it, I was done eating. I was disgusted with this. What I was not ready for was what happened when we called the store. First, my husband called. He was told to go back to the store to talk with the manager. He hung up and told me. It was dinner time, we have two young children, and it was freezing. He was NOT going back to the store at that point in time. I picked up the phone and asked to talk to the manager. It was a little after 6:00 at this point. I did not get the managers name. She was less than helpful at best. The manager clearly did not get the gravity of the situation. She stated "Oh you are upset and don't want your food?"  No kidding I was upset, disgusted, and appalled with how she had no clue how to handle this. I told her I was finished and was going to contact corporate. This is when she suddenly seemed to care and wanted to know what she could do. I told her no thank you and hung up the phone. Your Twitter feed helped me to located this page to report the incident. I would like to know what is the proper protocol for  avoiding hairs into customer food and what is supposed to be done when a customer finds one within their meal.

Thank you in advance for your assistance with this matter.
After some time, an e-mail from the owner of the store arrived. It was 2-3 sentences long and did not really apologize, state what happened, or anything else. They may have thought it was a sorry, but it was not. Stating that you are "sorry that your experience at my store was not satisfactory" and telling me to print out the e-mail for a free sub next visit does not cut it. Nope, my business will now be going to a new location and I will make my own sandwiches at home without feeding my family hairs.
So my question to you this week:
Have you ever gotten a hair in your food at a restaurant? What did you say and what did they do in response to the situation?

___________________________________________________________________________
Thanks to Kailani at An Island Life for starting this fun for Friday. Please be sure to head over to her blog to say hello and sign the linky there if you are participating.
Aloha #186